Welcome to our stop on the Sight tour for Juliet Madison. This tour is hosted by
Me, My Shelf and I
.
---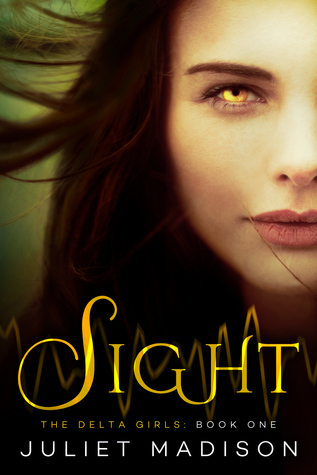 Sight
Author: Juliet Madison
Reading Level: Young Adult
Genre: Paranormal
Released: July 14 2015
Review Source: Diversion Books
I spent my birthday fast asleep. In a coma to be exact.

When Savannah wakes up after two months in the hospital, she sees a whole lot more than expected, things that could put those close to her at risk.

The five Delcarta sisters have never believed in the paranormal, not like their woo-woo mother. Instead they believe in the power of sisterhood, of romance, and rebuilding their lives after their father's mysterious disappearance nine years earlier. Starting anew in the small town of Iris Harbor, they see potential in all.

But Savannah's awakening after having surgery on a life-threatening aneurysm brings a unique ability to the Delcarta sisters–together, each can predict the future with one of the five senses. And Savannah has the gift of sight.

A serial arsonist has been terrorizing the tight-knit community, and the Delcarta sisters have their suspicions on who could be to blame, including a boy who starts as an adversary to Savannah and then very quickly becomes her whole world. Investigating these crimes, trying to stop them before the next flame is sparked will call upon Savannah to use her newfound abilities with the help of her sisters, and will put each of their lives in danger.

This stunning new paranormal series blends the sweetest of romances with breathless suspense, and introduces five young women who share a haunted past, an extraordinary gift, and an uncertain future.
A 16 year-old girl wakes up from a 2 month coma after having an operation to remove an aneurysm. But when she awakes her and her 4 sisters are able to see things that have yet to happen. Is this new power for real? Or is it just coincidence that they're seeing mundane things like someone taking out the garbage? When their visions start becoming more intense they start to feel like they were given this gift for a purpose. With an arsonist on the loose and their visions revolving around fires they start to wonder if they're suppose to find out who is behind the fires. Will they be able to use their visions to help? Or will they just be standing on the sidelines knowing what is about to happen?
I love paranormal stories, so for this one to be a sisterhood type fantasy I really enjoyed it. I loved that each sister had one of the senses as their way of seeing things. Meaning they needed each other to piece together what was going on. It created a bond between the sisters, and I love reading books about families with strong ties. I feel like they were close before their visions started happening, but once the visions came it was as if they were each others pillars to lean on.
Riley is adorable - and honestly he is the character that embodies readers. Although he isn't the main character, he is the one who actually goes "this isn't real, it isn't happening". Which I feel like with paranormal stories is what every reader thinks. So having this character for us to relate to, to help us ease into the paranormal visions that our main girl, Savannah, is going through helps us to believe what is going on.
One thing that I loved about this story was that although they were dealing with visions, I felt like readers could relate to it. It kept making mention of how people diagnose their own symptoms just to make sense of something that doesn't make sense. The girls kept coming up with names for their visions; they're the Delta sisters, they're going to connect, etc., so that they could make sense of this phenomena that was happening to them. When in reality there really was no making sense of what was happening to them.
---
Juliet Madison is a bestselling author of romantic comedy, women's fiction, and young adult mystery. After a successful career as a naturopath and a background in dance, art, internet marketing, and perfume sales (yes, she was one of those annoying people in department stores who spray you with perfume), she now prefers to indulge her propensity for multiple careers by living vicariously through her characters.
Living near the beach on the beautiful south coast of New South Wales, Australia, Juliet spends as much time as possible writing and as little time as possible doing housework.
Three winners will each get a finished copy of SIGHT by Juliet Madison
Ships in US only | Must be 13+ To Enter
a Rafflecopter giveaway