---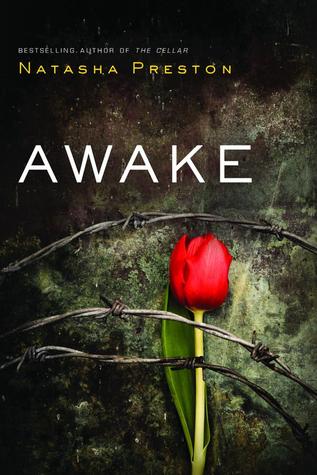 Awake
Author:
Natasha Preston
Reading Level: Young Adult
Genre: Contemporary
Released: August 4 2015
Review Source: Sourcebooks Fire
Scarlett doesn't remember anything before the age of five. Her parents say it's from the trauma of seeing her house burn down, and she accepts the life they've created for her without question—until a car accident causes Scarlett to start remembering pieces of an unfamiliar past.

When a new guy moves into town, Scarlett feels an instant spark. But Noah knows the truth of Scarlett's past, and he's determined to shield her from it...because Scarlett grew up in a cult called Eternal Light, controlled by her biological parents.



And they want her back.
Scarlett has lived her life not knowing what happened to hear within her first four years of life. Always thinking that her family survived a house fire in which she was traumatized to the point of losing her memory, she has never questioned why this is the case. Noah comes to school and automatically has a certain chemistry with Scarlett, one that is undeniable and unbreakable. When Noah starts to question why her memory is the way it is she starts to remember a few things, and starts to wonder what really happened in her first four years of life.
Scarlett and Noah...first off their romance is amazing. I love them, they are adorable. And yes - there are hardships that happen. But what relationship doesn't have a hardship? (Of course...this is a non-spoiler-y review...) While Scarlett and Noah's relationship is put to, what I would call, the ultimate test, Scarlett is able to find herself. Of course it's hard for her as more and more of her past comes to the surface, but she is such a lovable and strong character that you feel as if you are her support as she decides what to do with the truth that is upon her.
The one thing that I had such a hard time getting past was the fact that she lost her memory at the age of 4. So she didn't remember anything prior to that. I feel as though I have NO recollection at all of my memories from the time I was born till 4. I think 5 is when I actually kind of remember things, so I feel like maybe she should've lost her memory anywhere from 5 to 10. I was able to push that to the back of my mind luckily, and once I got past that I was able to enjoy the story.
It's so difficult for me to write a review that does this book justice. I don't want to give away what happens, or why her memories are gone, or why everything is the way it is. But I want to get the point across that this book is great! So I hope that with this minimal review it convinces you to read Awake!