---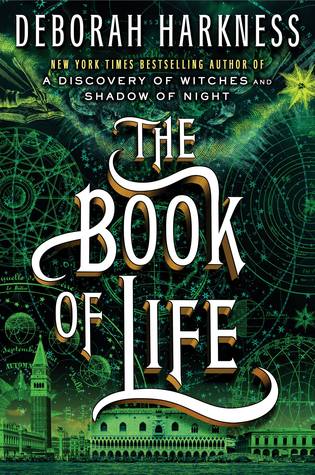 The Book of Life
All Souls Trilogy #3
Author: Deborah Harkness
Reading Level: Adult Fiction
Genres: Paranormal | Supernatural
Released: May 26th 2015 (box edition)
Review Source: Penguin Books
After traveling through time in Shadow of Night, the second book in Deborah Harkness's enchanting series, historian and witch Diana Bishop and vampire scientist Matthew Clairmont return to the present to face new crises and old enemies. At Matthew's ancestral home at Sept-Tours, they reunite with the cast of characters from A Discovery of Witches--with one significant exception. But the real threat to their future has yet to be revealed, and when it is, the search for Ashmole 782 and its missing pages takes on even more urgency. In the trilogy's final volume, Harkness deepens her themes of power and passion, family and caring, past deeds and their present consequences. In ancestral homes and university laboratories, using ancient knowledge and modern science, from the hills of the Auvergne to the palaces of Venice and beyond, the couple at last learn what the witches discovered so many centuries ago.
The Book of Life is the third and final book in the All Souls Trilogy by Deborah Harkness. To say that this book was suspenseful and kept you on the edge of your seat until the very end is an understatement. We have followed these characters throughout this series in their search of long lost history, withstanding the odds cast at them by their enemies, and the development of relationships and love that made it important to us as readers that they fulfill their journey and come out on top in the end.
The major theme of all three books in this series, is historian and witch Diana Bishop and her mate, vampire scientist Matthew Clairmont searching for the missing pages of Ashmole 782, the sacred alchemy book that holds vital information to the survival of vampires, witches, daemons and humans. In book two they traveled back in time to search for the lost pages, and in book three we begin by them returning to the present in their continued search of those sacred pages. Of course upon their return there is no lack of other obstacles awaiting the two of them. Diana and Matthew are now mated, something not normally accepted between witches and vampires. Diana is also pregnant with twins, which will not be looked upon fondly by the congregation of vampires, witches, and daemons. They also have to worry about how crossbreeding between their two species (witch and vampire) will affect their offspring once they are born. As if all of that weren't enough Matthew's son from a previous relationship is stalking both Diana and him and has the goal of murder on his mind.
The last book doesn't just wrap the series up in a boring, expected, nice, neat little package with a bow on top. It explodes across the pages in action, mystery, history and romance before leaving us at a point of contentment for the characters we have loved to follow from the beginning. I dare to say that Harkness even left the tone a bit open ended and we can only hope that means she has eventual plans to continue the series, or at least spins off or a possible novella down the road. Whatever the future holds for this amazingly well written trilogy, you certainly want to make sure that these three books are part of your present. So don't walk, but run to your nearest bookstore, computer, or e-reader and get these books as soon as possible! They will be a great companion at the beach this summer vacation, or even curled up in front of a fire come this fall or winter. This book and this whole entire series get a big thumbs up, A+, and five stars! Well done Deborah Harkness!