We are so thrilled to be part of the tour! If you haven't read it yet, I recommend that you start soon! Learn more about this epic series below.
---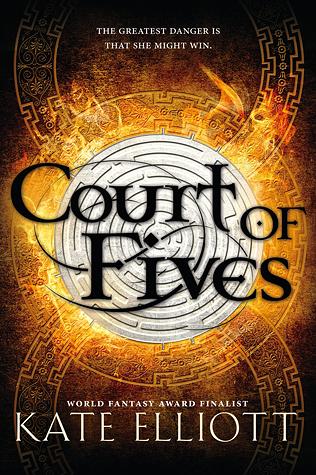 Court of Fives
Court of Fives #1
Author: Kate Elliott
Reading Level: Young Adult
Genre: Fantasy
Released: August 18th 2015
Publisher: Little, Brown Books for Young Readers
In this imaginative escape into an enthralling new world, World Fantasy Award finalist Kate Elliott begins a new trilogy with her debut young adult novel, weaving an epic story of a girl struggling to do what she loves in a society suffocated by rules of class and privilege.

Jessamy's life is a balance between acting like an upper class Patron and dreaming of the freedom of the Commoners. But at night she can be whomever she wants when she sneaks out to train for The Fives, an intricate, multi-level athletic competition that offers a chance for glory to the kingdom's best competitors. Then Jes meets Kalliarkos, and an unlikely friendship between a girl of mixed race and a Patron boy causes heads to turn. When a scheming lord tears Jes's family apart, she'll have to test Kal's loyalty and risk the vengeance of a powerful clan to save her mother and sisters from certain death.
---
Five Inspirations for Court of Fives
Novels are weird things. They grow out of a mix of influences, many of which become unrecognizable in the course of writing the story. Where did Court of Fives come from? What inspired the story?
1. Epic Fantasy
.
I have loved reading epic fantasy since I first encountered The Lord of the Rings at age thirteen. I adore the sense that you're getting a wide lens view of a world, one punctuated by closeups and medium shots. The word I would probably use to describe what I'm looking for in an epic is "sweep," defined in my American Heritage Dictionary as (variously) "to move or unbalance emotionally; to cause to depart, remove or destroy; to traverse with speed or intensity; to extend gracefully or majestically."
For me the heart of epic fantasy is the emotional response it engenders in the reader. That emotional response is going to be something different for each reader rather than a static characteristic that's the same in every epic, but what I always hope to convey is a sense of discovery and adventure and anticipation and change and just plain "wow!"
2. Little Women.
The iconic novel by Louisa May Alcott about four sisters tells the story of four ordinary girls as they make the transition to womanhood. An instant bestseller when the first volume was published by Roberts Brothers in 1868, it is also considered a game-changer for American literature because of its focus on the four girls and their maturation.
To be honest, this novel annoyed the heck out of me when I read it as a teen because I got impatient at the limited choices the girls had (even though I knew they were realistic choices for the time). But at the same time the story stuck with me. Books that I read as a teen that annoyed me but stuck with me often end up creeping into my idea basket in a transmuted form because at some point and in some twisted way I want to comment on or torque them.
3. Greco-Roman Egypt.
In 2009 my archaeologist husband began co-directing a dig at the site of Tell Timai in the Delta Region of Egypt, near the city of Alexandria. The city of Timai (or Thmuis) flourished during the Greco-Roman period, from the conquest of Egypt by Alexander the Great in 332 B.C.E. to the final fall of Roman (at this point Byzantine) influence in the early 7th century C.E.
Like many I mostly had read about and seen images of Pharaonic Egypt of the Old and New Kingdoms with their familiar pyramids, temples, tombs, mummies, gods, and wars against their enemies to the east. But my spouse's work got me interested in reading more about Ptolemaic Egypt, and what I read fascinated me, especially the element of foreign conquerors who establish a ruling class and culture over a larger indigenous population.
4. The story of the Hawaiian voyaging canoe, the Hōkūle'a.
The Hōkūle'a is a replica of an ancient Polynesian voyaging canoe. It was built in the 1970s during the Hawaiian Renaissance as Native Hawaiians rediscovered and rebuilt the culture and heritage they had almost lost after being colonized and annexed by the USA. Many books have been written about the voyages of this canoe as well as the recovery of the lost art of Polynesian open ocean non-instrument navigation.
5. Japanese reality shows Sasuke & Kunoichi, & the USA spin off, American Ninja Warrior, and most especially the women who compete on the same course as the men.
A video is worth at least a thousand words as we watch the Mighty Kacey Catanzaro in 2014 become the first women ever to qualify for the Finals.
These five things are at the core of Court of Fives: In a world of magic and peril, four sisters try to make a difficult transition to adulthood in a society suffocated by rules of class and privilege. Fierce, determined Jes wants nothing more than to make her mark in the most popular game in the country, but disaster is about to strike her family, one that will bring her into stunning contact with her long-buried heritage.
One of the great pleasures of writing fantasy is being able to combine many very different elements and create something new.
---
As a child in rural Oregon, Kate Elliott made up stories because she longed to escape to a world of lurid adventure fiction. She now writes fantasy, steampunk, and science fiction, often with a romantic edge. It should therefore come as no surprise that she met her future husband in a sword fight.
When he gave up police work to study archaeology, they and their three children fell into an entirely new set of adventures in dusty Mexican ruins and mouthwatering European pastry shops. Eventually her spouse's work forced them to move to Hawaii, where she took up outrigger canoe paddling.
Also, there is a schnauzer.