We are thrilled to be a part of Josephine Angelini's FIREWALKER blog tour.
The Worldwalker Trilogy
is by far one of my favorite YA series hands down!
Visit
Fierce Reads
to visit all the sites on the
Firewalker
tour!
---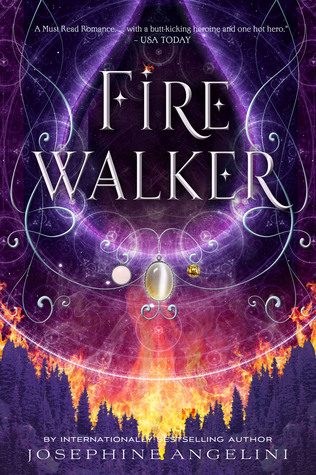 Firewalker
The Worldwalker Trilogy #2
Author: Josephine Angelini
Release Date: September 1st 2015
Publisher: Feiwel & Friends
You think I'm a monster, but my choices, as ruthless as they seem, are justified.

Lily is back in her own universe, and she's ready to relax with Rowan. True, she almost died in the Pyre that fueled their escape, and must hide her magic for the safety of the world, but compared to fighting the monstrous Woven and leading armies in the alternate Salem, life is looking good.

You think I'm a monster, but my choices, as ruthless as they seem, are justified.

Unfortunately, Lillian, ruthless ruler of the 13 Cities, is not willing to let Lily go that easily. If she can't persuade Lily to return to her world, she'll have to find a way to make her come back.

Picking up right where Trial By Fire left off, Firewalker is another sexy, fast-paced, heartbreaking thrill ride from internationally bestselling author Josephine Angelini!
Read Yara's 5 star review of
Trial by Fire
(book 1 in
The Worldwalker Trilogy
)
---
Play Lists created by Josephine Angelini
I always feel bad when I put my playlists together. I have fringe taste when it comes to music and most of you will have never heard of 99% of what I have here.
I worry because I feel like you won't be able to connect to me in music—even those of you who connect deeply to my writing—and it will make you feel farther from, rather than closer to, my stories. That sentiment goes double for this book. I had to do go deep-dish weird to make this world come alive in my imagination, but what sparks my imagination may not spark yours. I guess it just goes to show that everyone has some strange on the inside.
Firewalker playlist:
Pendulum by F.K.A. Twigs.
She's got such a witchy, sexy sound. Love it. It's very Lily and Rowan. This song and Two Weeks got a lot of play while I wrote.
Two Weeks
has explicit lyrics so I'm not officially saying it's on the playlist. But it's on my playlist, if you ken.
Push Pull by Purity Ring.
This song speaks to the tension between Lily and Rowan in the first act of the book.
Stranger Than Earth, also by Purity Ring
, was another song that I listened to a lot. Alotta lot. Got me pumped up to write a ton of action sequences.
White Lies by ODESZA.
There's some lying going on in this book. Tough to do with a bunch of telepaths, btw.
The Chain by Fleetwood Mac.
You're never supposed to break the chain, but someone breaks the chain. 'Nuff said.
Other People by Beach House.
They aren't going to keep in touch.
Gun by CHVRCHES.
What Lily has to become.
No Name No. 5 by Elliot Smith.
Oh, the sadness, the loneliness. Crossing the country.
Plague by Crystal Castles.
The final fight. I imagine the Hive rising on the horizon when I listen to this song.
Never Mess With Sunday by Yppah.
A "fade to black" song as the coven arrives at an unknown destination.
Trial by Fire Playlist:
Dreams by Fleetwood Mac.
It would be what Lily would say to Tristan at the beginning of the book. More than that, I listened to the White Witch a lot while I was writing this. I heart Stevie Nicks.
Aereal Boundaries by Michael Hedges.
Maybe what it feels like to travel through universes, weightless and disembodied.

Fineshrine by Purity Ring.
When I was writing the scene when Lily claims Rowan in the cabin I must have listened to this song a hundred times. This whole album, Shrines, was my soundtrack for
Trial by Fire
. I listened to it on repeat pretty much the whole time. It's witchy sounding and the lyrics are like spells.

Running Up That Hill by Kate Bush.
Maybe what it feels like when Lily and Rowan fight as one.

Below It by Peter Broderick.
Vulnerable and private—like Lily and Rowan feel the morning after the claiming.

Bridges by Broods.
Lots of betrayal in this song. Ah, men. Trust is such a big issue.

Archangel by Burial.
Another "witchy", watery-sounding song that I played on repeat while writing the ritual scene in Rowan's apartment. Sexy, but creepy.

Fascination Street by The Cure.
Club scene. Also, Disintegration is one of my all-time favorite albums, so it needs a giant shout-out.

Recover by CHVRCHES.
Lily wakes in Alaric's camp. She's different after the oubliette. Harder.
Saltkin by Purity Ring. Lily claiming an army.
Gorilla by Clams Casino. Dark and dissonant—this song was on repeat while I wrote the final battle scene.