---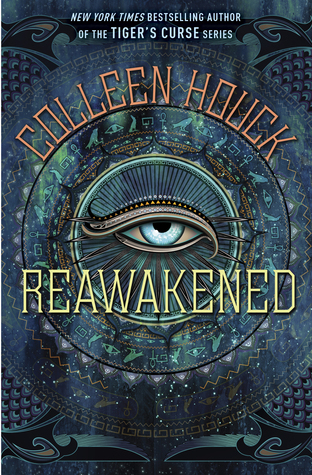 Reawakened
The Reawakened #1
Author: Colleen Houck
Reading Level: Young Adult
Genre: Fantasy
Released: August 11th 2015
Publisher: Delacorte Press
When seventeen-year-old Lilliana Young enters the Metropolitan Museum of Art one morning during spring break, the last thing she expects to find is a live Egyptian prince with godlike powers, who has been reawakened after a thousand years of mummification.

And she really can't imagine being chosen to aid him in an epic quest that will lead them across the globe to find his brothers and complete a grand ceremony that will save mankind.

But fate has taken hold of Lily, and she, along with her sun prince, Amon, must travel to the Valley of the Kings, raise his brothers, and stop an evil, shape-shifting god named Seth from taking over the world.

From New York Times bestselling author Colleen Houck comes an epic adventure about two star-crossed teens who must battle mythical forces and ancient curses on a journey with more twists and turns than the Nile itself.
1. Congratulations on your new series! If you had to describe Reawakened in 5 words or less, how would you describe it?
Exciting, Romantic, Mysterious, Dangerous, & Fast-Paced
2. I loved the cover of Reawakened, can you tell us how it portrays to your story? How does it relate?
The original design had this glorious scarab on it. It lost its wings, shrunk and now graces the flap pages. This is in reference to something called a heart scarab which is placed over the heart of a mummy to prevent the heart from testifying against it's owner in the final judgment. My heart scarab works a little differently and you'll have to read to figure out why. The eye in the middle refers to the Eye of Horus which was my original title for the book. Amon possesses the Eye and there are several interesting things it allows him to do. The birds that grace the corners are falcons. Horus is represented by a falcon in statues and drawings. I've incorporated some different birds pertinent to Egyptian mythology in my book. Then you see various constellations. What my characters do in this series affects not only Egypt, not only Earth, but the fabric of the cosmos itself.
3. Now that you explained the relation between the cover and the story, what was your first thought when you saw it?
I loved it. It was exactly what I wanted. I'm always mindful about keeping my covers gender neutral so as to not scare away male readers. I love those YA covers with girls in fancy dresses but there are lots of those on the market. I wanted something different, something that would be artistic and would capture the imagination.
4. What inspired you to write Reawakened?
I've always been fascinated with Egypt. Mummies, pyramids, gods, and goddesses, the unique and deadly animals that live there...all of that makes for really exciting stories and I knew I wanted to set a series in that mysterious and frightening world someday.
5. Do you have a favorite line from the book you can share with us?
One of my favorites is my quote of the month on my website. It's "I felt like a mouse looking up at a swooping falcon, knowing death loomed but utterly unable to look away from the beauty of it." That one really fits the theme of the novel. Everything my characters encounter can lead to their deaths but there are moments of overwhelming beauty too.
6. If you were a character in your books, which character would you be friends with? Why?
I'd like to say Lily but I think I'd actually get along with my other heroine, Kelsey, better. Lily is tougher than me and I think I'd be a little intimidated by her. The one I would relate to the most is probably Ahmose. He's quiet but very observant. He sees suffering in others and works to alleviate it.
---
New York Times Bestselling Author Colleen Houck is a lifelong reader whose literary interests include action, adventure, science fiction, and romance. Formerly a student at the University of Arizona, she worked as a nationally certified American Sign Language interpreter for seventeen years before switching careers to become an author. Colleen lives in Salem, Oregon, with her husband and a huge assortment of plush tigers.