---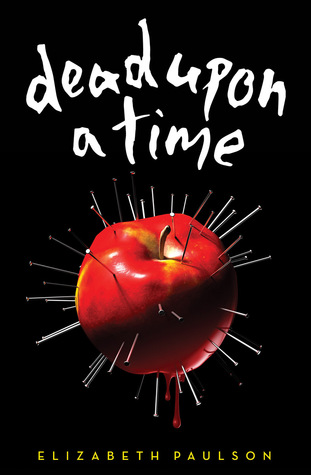 Dead Upon a Time
Author: Elizabeth Paulson
Reading Level: Young Adult
Genres: Retellings | Fantasy | Fairy Tales
Release Date: August 25th 2015
Review Source: Scholastic Press
It's a fairy-tale nightmare . . .

One girl is kept in a room where every day the only food she's given is a poisoned apple. Another is kept in a room covered in needles -- and if she pricks her finger, she'll die. Then there are the brother and sister kept in a cell that keeps getting hotter and hotter. . .

A sinister kidnapper is on the loose in Kate's world. She's not involved until one day she heads to her grandmother's house in the woods -- and finds her grandmother has also been taken. Already an outcast, Kate can't get any help from the villagers who hate her. Only Jack, another outsider, will listen to what's happened.

Then a princess is taken, and suddenly the king is paying attention -- even though the girl's stepmother would rather he didn't. It's up to Kate and Jack to track down the victims before an ever after arrives that's far from happy.
In
Dead Upon a Time
you start off a bit confused because the characters you grew up knowing as the "good guys" are disliked and ostracized from society. So you have too train yourself to understand and separate the fairy tales you would associate to this story. The author took this story to a dark place.
If you are looking for a quick read, then this will work for you. The book itself is very slim and you can probably get done reading it within a day or two the most. The retelling is simple and dark and easy to follow along. You might have different ideas or conclusions as to why certain events happen, this is where the twist part comes in. It is definitely a unique book.
The story follow Kate, who has a grandmother that lives in the woods away from everyone. Kate knows they are not normal and her grandmother separated herself from her so that they wouldn't associate Kate to her. That hasn't worked out quiet like the grandmother planned. Kate is not normal and her visions would be the reason why. Then one day Kate finds that her grandmother has been taken and its no coincidence that the town's children have gone missing too. She meets another outcast like herself named Jack (yup, the beanstalk Jack) and they set off together to rescue these children and hopefully Kate's grandmother too. Plus the King gave Kate an offer she really can't refuse. So this is where the journey begins with the dark take on the classic fairy tales.