---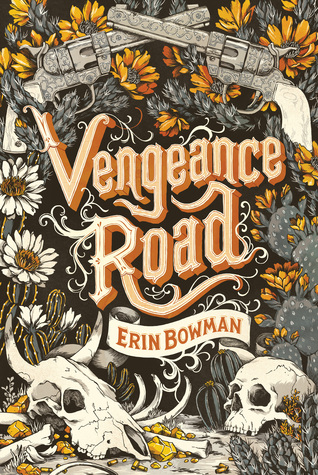 Vengeance Road
Author: Erin Bowman
Reading Level: Young Adult
Genre: Historical Fiction
Released: September 1st 2015
Review Source: HMH Books for Young Readers
When Kate Thompson's father is killed by the notorious Rose Riders for a mysterious journal that reveals the secret location of a gold mine, the eighteen-year-old disguises herself as a boy and takes to the gritty plains looking for answers and justice. What she finds are devious strangers, dust storms, and a pair of brothers who refuse to quit riding in her shadow. But as Kate gets closer to the secrets about her family, she gets closer to the truth about herself and must decide if there's room for love in a heart so full of hate.

In the spirit of True Grit, the cutthroat days of the Wild West come to life for a new generation.
When I first heard Erin is writing a new book, my face lit up. I adore her Taken series. Not only does this series have amazing covers, but the story is interesting with action packed scenes. With this said, I have to say I did not find Vengeance Road as amazing as her series. The story is okay but it is not for me.
Kate's father was murder and she is seeking revenge. On her road of vengeance, she meets two brothers. Trying to stay out of trouble and on track, she deceived them by telling them "his" name is Nate. The brothers advise Nate it is dangerous to travel alone and they decide to accompany him. These three form some type of brotherly bond. Until they discover she is actually a girl.
Although the book deals with tough topics, I found the pacing slow. Which was my biggest issue. There were some scenes with actions, but overall, I just found the pacing slow. Another issue I had is the fact that I couldn't connect with Kate. Honestly, I tried to feel her pain, but sometimes I couldn't deal with her actions. There is a twist that I actually liked but it wasn't shocking.
Overall, the story was okay. It has its moments but if you don't like the Western genre then I wouldn't recommend this book. I tried but I was not really engaged. If you want to give it a try, go for it! Maybe you will like it.