---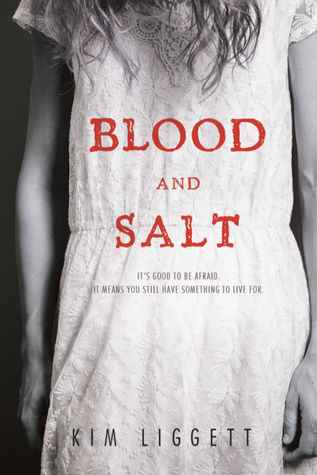 Author: Kim Liggett
Release Date: September 22nd 2015
Publisher: G.P. Putnam's Sons Books for Young Readers
Romeo and Juliet meets Children of the Corn in this one-of-a-kind romantic horror.

"When you fall in love, you will carve out your heart and throw it into the deepest ocean. You will be all in—blood and salt."

These are the last words Ash Larkin hears before her mother returns to the spiritual commune she escaped long ago. But when Ash follows her to Quivira, Kansas, something sinister and ancient waits among the rustling cornstalks of this village lost to time.

Ash is plagued by memories of her ancestor, Katia, which harken back to the town's history of unrequited love and murder, alchemy and immortality. Charming traditions soon give way to a string of gruesome deaths, and Ash feels drawn to Dane, a forbidden boy with secrets of his own.

As the community prepares for a ceremony five hundred years in the making, Ash must fight not only to save her mother, but herself—and discover the truth about Quivira before it's too late. Before she's all in—blood and salt.
Excerpt
THE SICKENING CRACKLE of the corn-husk rope pulls me from sleep, down the hall, up the stairs, and out into the night. The sky is the strangest color, a dusky gray rose. Dark blond hair skims the ground as it disappears into a patch of tall prairie grass.
Tearing through the coarse grass, I try to reach her. As I break into a small clearing, I catch a glimpse of her face—eyes wide and lifeless, she stares back at me as her body's being dragged into the corn.
Sensing a presence, I turn to see a winged figure made of smoke move toward me, but I'm not afraid. The scent of freshly rained-upon soil, salt, hay, cloves, sandalwood, and saddle leather perme­ates the air. It's the most beautiful smell in the world. I close my eyes to breathe it in, hoping it will imprint on my memory. And when I open them, the smoke has sharpened into the face of Dane.
I reach out to touch him, but he flinches away. I can't help but laugh. Even my illusion of Dane won't cooperate.
My skin is pulsing with light. Faint at first, the golden light soon grows into a soft halo that wraps around me, illuminating the protection marks.
I stand perfectly still, coaxing the golden light forward to reach him. As soon as it meets his skin, I can feel him, just as if I were touching him with my own fingers. Every bit of our connection is alive and electric as it flows through me and into him, back from him to me, and around us.
I feel his spirit, damaged and beautiful. Perfect in its flaws. Suddenly, I become worried that he can see all of me, too; something in me wants to cover up, to hide my imperfections. I feel vulnerable, like a gaping wound with salt water lapping at the edges.
"Do you see the light?"
"There's no light," he answers.
It makes me so sad he can't see or feel what I feel. "Just because you don't see it, doesn't mean that it doesn't exist."
Dane's shadowy figure takes an unexpected step toward me. Even though he's only a hallucination, I swear I can feel his gentle breath on my face. He leans forward, pressing his lips against mine. I can taste him, along with the salt of my tears that stream into our mouths. Sadness and ecstasy consume me.
I open my eyes to find Dane has vanished, along with every bit of light that beamed from my skin. I hear the crops rustle behind me. I turn and step toward the corn. As I peer through the stalks, a feeling of dread presses down on me, crushing me, holding me in place.
The dead girl's hand emerges from the corn, clasping my ankle. "I thought you loved me," she whispers.
"Ashlyn."
I awoke sometime before dawn, sprawled on top of my cov­ers, a thick sheen of sweat covering my body. I stirred; my muscles ached. My feet gritted against the sheets. Looking down, I found them caked in dirt.
I leapt out of bed.
"What's going on?" Rhys mumbled.
"Nothing. Just need to get ready." I escaped into the bath­room and rested my forehead against the closed door.
"This is real," I told myself as I pressed my fingers into the cool wood grain. I stole a glance at myself in the mirror and did a double take.
Threaded into my tangled hair were coarse strands of prairie grass. In a panic, I checked the rest of my body. "Holy shit." I exhaled when I discovered a bloody handprint coiled around my left ankle.
I'd gone outside without a clue of how I got there or how I got back. I'd lost time again. Maybe hours. Was Coronado's black magic trying to lure me into the corn? But it felt deeper than that.
"Are you okay in there?" Rhys knocked on the door, star­tling me.
"Find another bathroom," I snapped as I pumped water into the washtub. I stepped into the cool water and scrubbed my legs with a washcloth until they were raw, then pulled the plug, watching the dirty water swirl around my ankles and disappear down the drain.
The dead girl spoke to me. She touched me. She wanted me to find her in the corn. And Dane could take me there.
a Rafflecopter giveaway