---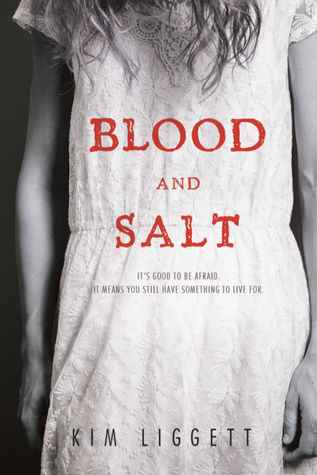 Blood and Salt
Author: Kim Liggett
Reading Level: Young Adult
Genre: Contemporary
Released: September 22nd 2015
Publisher: G.P. Putnam's Sons Books for Young Readers
Romeo and Juliet meets Children of the Corn in this one-of-a-kind romantic horror.

"When you fall in love, you will carve out your heart and throw it into the deepest ocean. You will be all in—blood and salt."

These are the last words Ash Larkin hears before her mother returns to the spiritual commune she escaped long ago. But when Ash follows her to Quivira, Kansas, something sinister and ancient waits among the rustling cornstalks of this village lost to time.

Ash is plagued by memories of her ancestor, Katia, which harken back to the town's history of unrequited love and murder, alchemy and immortality. Charming traditions soon give way to a string of gruesome deaths, and Ash feels drawn to Dane, a forbidden boy with secrets of his own.

As the community prepares for a ceremony five hundred years in the making, Ash must fight not only to save her mother, but herself—and discover the truth about Quivira before it's too late. Before she's all in—blood and salt.
---
Would you Rather?
1. Would you rather live one life that lasts 1,000 years or live 10 lives that last 100 years each?
I had to think about this one for quite some time. There's something elegant about the idea of having 1,000 years to perfect a life, but I'm a gambler at heart. I'd be willing to roll the dice ten times.
2. Would you rather have a dragon or be a dragon?
Be a dragon. Who doesn't want to be a freaking dragon?!*#!?!
3. Would you rather be in prison for five years in solitary confinement or not ever go to prison and not ever become rich?
I've never cared about being rich & prison sounds like a drag. I choose freedom and a life of Ramen Noodles!
4. Would you rather change the past or be able to see into the future?
I wish I was zen enough to answer differently, but I would change the past.
5. Would you rather dress as Mean Girl's Cady Heron as The Zombie Ex-Wife or would you rather dress like a total s**t? (Mean Girls style)
ZOMBIE EX-WIFE!!!
6. Would you rather go into the past and meet your ancestors or go into the future and meet your great-great grandchildren?
Again, I think I would be drawn to the past. Was there someone in my family like me? Is it in the blood? Too intriguing to pass up.
7. Would you rather be without internet for a week, or without your phone?
I'd rather be without my phone. I still have some semi-healthy boundaries with my phone, but I'm too far gone with the internet.
8. I'd rather be without my phone. I still have some semi-healthy boundaries with my phone, but I'm too far gone with the internet.
If I'm feeling under the weather, movie is the way to go, but for everyday life, I will always choose book. I read at least an hour every night before I go to bed. It's a cherished ritual.
9. For your birthday, would you rather receive cash or gifts?
Ideally, a gift, unless it's from my mother. In that case, cash. She's always buying me things that are covered in sequins.
---
At sixteen, Kim Liggett left her rural midwestern town for New York City to pursue a career in both music and acting. While attending the American Academy of Dramatic Arts, Kim sang backup for some of the biggest rock bands in the 80's.
After settling down to have a family, she became an entrepreneur, creating a children's art education program and a travel company specializing in tours for musicians.
She's married to jazz musician Ken Peplowski, has two grotesquely beautiful teens, and a very neurotic dog that drags her through Riverside Park everyday on the Upper West Side of Manhattan.
Follow the tour:
Please Feed the Bookworm – review & giveaway - 9/24
The Irish Banana – guest post #2 - 9/25
Winterhaven Books – Top 10 - 9/28
My Friends are Fiction – review & giveaway - 9/29
Fiction Fare – interview - 9/30
A Dream Within a Dream – Book Playlist #2 - 10/1
Two Chicks on Books – interview - 10/2