Welcome to our stop on This Monstrous Thing tour for Mackenzi Lee. This tour is hosted by
The Fantastic Flying Book Club Tours
.
---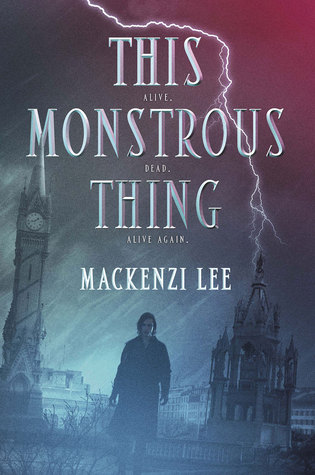 This Monstrous Thing
Author: Mackenzi Lee
Reading Level: Young Adult
Genre: Contemporary
Released: September 22nd 2015
Publisher: Katherine Tegen Books
In 1818 Geneva, men built with clockwork parts live hidden away from society, cared for only by illegal mechanics called Shadow Boys. Two years ago, Shadow Boy Alasdair Finch's life shattered to bits.

His brother, Oliver—dead.

His sweetheart, Mary—gone.

His chance to break free of Geneva—lost.

Heart-broken and desperate, Alasdair does the unthinkable: He brings Oliver back from the dead.

But putting back together a broken life is more difficult than mending bones and adding clockwork pieces. Oliver returns more monster than man, and Alasdair's horror further damages the already troubled relationship.

Then comes the publication of Frankenstein and the city intensifies its search for Shadow Boys, aiming to discover the real life doctor and his monster. Alasdair finds refuge with his idol, the brilliant Dr. Geisler, who may offer him a way to escape the dangerous present and his guilt-ridden past, but at a horrible price only Oliver can pay…
Playlist
"Genesis 30:3" by the Mountain Goats
Corresponding TMT Chapter: Prologue
-"Romans 10: 9" by the Mountain Goats
Corresponding TMT Chapter: 1
-"Machine" by Regina Spektor
Corresponding TMT chapter: 2
-"Don't You Want to Share the Guilt?" By Kate Nash
Corresponding TMT chapter: 4
-"A Girl, a Boy, and a Graveyard" by Jeremy Messersmith
Corresponding TMT chapter: 7
-"Mary" by Noah and the Whale
Corresponding TMT chapter: 8
-"The Chain" by Ingrid Michelson
Corresponding TMT chapter: 10
-"Autoclave" by the Mountain Goats
Corresponding TMT chapter: 13
-"Coalhouse's Soliloquy" from Ragtime
Corresponding TMT chapter: 15
-"Empty Rocking Chair" by Parsonsfield
Corresponding TMT chapter: 16
-"Low Rising" by the Swell Season
Corresponding TMT chapter: 17
-"After the Bombs" by the Decembrists
Corresponding TMT chapter: 18
---
Mackenzi Lee is reader, writer, bookseller, unapologetic fangirl, fast talker, and perpetually-anxious badass. She holds an MFA from Simmons College in writing for children and young adults, and her short fiction has appeared in Inaccurate Realities, The Friend, and The Newport Review. Her young adult historical fantasy novel, THIS MONSTROUS THING, which won the PEN-New England Susan P. Bloom Children's Book Discovery Award, as well as an Emerging Artist Grant from the St. Botolph Club Foundation, will be published fall of 2015 by Katherine Tegen/HarperCollins.
She loves Diet Coke, sweater weather, and historical fiction. On a perfect day, she can be found enjoying all three. She currently calls Boston home.