---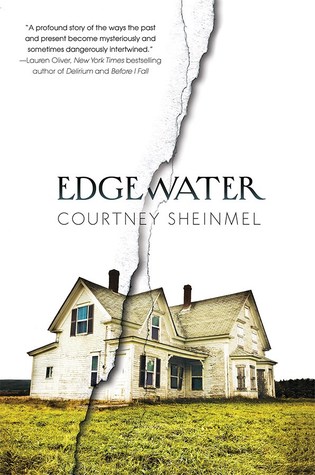 Edgewater
Author:
Courtney Sheinmel
Reading Level: Young Adult
Genre: Mystery
Released: September 8th 2015
Review Source: Amulet Books
Lorrie Hollander used to be a rich girl, but now she's lost everything because of the secrets and lies of the people around her. It's been 12 years since Lorrie's mother skipped town and left Lorrie in the care of her unstable aunt Gigi. Together they live in a neglected, decrepit mansion called Edgewater, the eyesore in a town of extraordinary wealth and privilege.

When Charlie, the son of an esteemed senator, takes an interest in Lorrie, her shame for her family and lifestyle runs deep. But what she doesn't know is that Charlie's family is hiding something, too, and that their secrets are inextricably tied. Now Lorrie must confront the truth about her family—and everything she ever thought she knew about herself.
This is not typically the kind of book I'd first go for, to be honest. I am more of a fantasy, supernatural, sci-fi –basically anything unrealistic –kind of gal, but I admit this book caught me by surprise. Probably because I was able to identify so much with the main character, Lorrie, who is a very mature (although sometimes too strict) 17 year-old girl. I was able to identify with her so much because I share her love for organization, cleanliness, and horses –and because I was a little strict and stuck up at her age as well.
Lorrie's family used to have a lot of money and she, her younger sister Susannah, and their aunt-turned-guardian Gigi live in the mansion called Edgewater left by her grandfather after her mother abandoned them. The problem is that Gigi had her priorities completely wrong and would spend thousands of dollars in Louboutin shoes and birthday parties for her, yet the house was in complete decay (so much so it was considered the eyesore of the very rich town they lived in). I'm surprise child services were never called on her! She wasn't a bad person; she was just a 13-year-old girl inside the body of an adult, who obviously suffered from Major Depressive Disorder. At least she tried her hardest to be a good aunt! Anyway, when Lorrie realizes they have literally no money left, that's when everything starts to go wrong for her and she takes the responsibility of the bills on her shoulders, without telling anyone.
This book became a page-turner for me because the author was able to pull me in from the first page and I really wanted to find out what the mystery behind Lorrie's mother was, along with what the connection between Lorrie's and her love interest's (Charlie Copeland) families was. This book is easy to relate to –even if you've never been rich like all of the characters in the story are –because the things some of them go through are things many have gone through, and because they're so real. I know for sure I've been in Lorrie's shoes more than once and have to be the one to help out my family.
Anyway, if you want to read a story in which there's some mystery, love, and lots of love for animals, then this book is for you. It's a cute story that could be a light and easy read for anyone.