---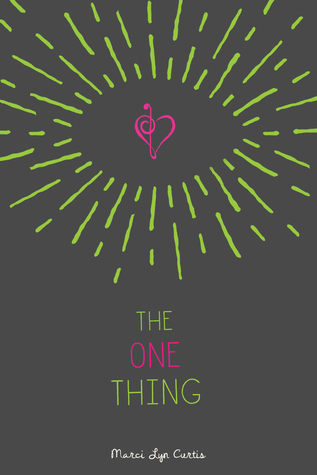 The One Thing
Author:
Marci Lyn Curtis
Reading Level: Young Adult
Genre: Contemporary
Released: September 8 2015
Review Source: Disney-Hyperion
Maggie Sanders might be blind, but she won't invite anyone to her pity party. Ever since losing her sight six months ago, Maggie's rebellious streak has taken on a life of its own, culminating with an elaborate school prank. Maggie called it genius. The judge called it illegal.

Now Maggie has a probation officer. But she isn't interested in rehabilitation, not when she's still mourning the loss of her professional-soccer dreams, and furious at her so-called friends, who lost interest in her as soon as she could no longer lead the team to victory.

Then Maggie's whole world is turned upside down. Somehow, incredibly, she can see again. But only one person: Ben, a precocious ten-year-old unlike anyone she's ever met.Ben's life isn't easy, but he doesn't see limits, only possibilities. After awhile, Maggie starts to realize that losing her sight doesn't have to mean losing everything she dreamed of. Even if what she's currently dreaming of is Mason Milton, the infuriatingly attractive lead singer of Maggie's new favorite band, who just happens to be Ben's brother.

But when she learns the real reason she can see Ben, Maggie must find the courage to face a once-unimaginable future... before she loses everything she has grown to love.
Maggie has been blind for 7 months, and Ben comes into her life and gives her a slice of her sight back. Hanging around him makes her realize how much she has missed being able to see things, but she isn't sure why she is able to see things. Trying to figure it out, while trying to not have Ben believe that she is using him for her sight turn into a problem when his brother, Mason, comes around and realizes that Maggie is a fan of his band. Taking Maggie for someone who is faking her blindness to get a glimpse into the Loose Cannons band, he is able to make Ben believe this as well. Maggie needs to fix things as well as figure out why she can see around Ben.
I have to say - this story was cute. I really wish there was something between 2.5 and 3, the rating is closer to a 3 star rating, but it isn't quite there. I have some problems with Maggie.
I understand that it must've been hard - losing her eyesight. But I felt like she made it more dramatic then it needed to be. She was the problem with all of her relationships. She was confused why her mom became distant, and her dad and friends once her eyesight was gone. But in actuality it was Maggie who was distancing everyone away. And I feel like she could've been able to realize this way before she did.
Ben was the way to Maggie getting a better life and realizing what she needed to change. But I had a few problems with Ben. Like the fact that he was a 10 year old but read more like a pre-teen. I have a ten year old cousin, and there is no way he would be as mature is Ben. Even if he were in Ben's circumstances. Every time his age got brought up it made me go "Eh...but I feel like he's more like 12 or 13."
The story has a moral that everyone could learn from, and try to follow. I love when stories can relate to everyone.