---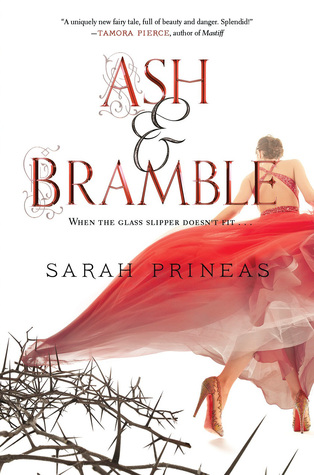 Ash & Bramble
Author: Sarah Prineas
Reading Level: Young Adult
Genre: Fantasy
Released: September 15th 2015
Publisher: HarperTeen
When the glass slipper just doesn't fit…

The tale of Cinderella has been retold countless times. But what you know is not the true story.

Pin has no recollection of who she is or how she got to the Godmother's fortress. She only knows that she is a Seamstress, working day in and out to make ball gowns fit for fairy tales. But she longs to forsake her backbreaking servitude and dares to escape with the brave young Shoemaker.

Pin isn't free for long before she's captured again and forced to live the new life the Godmother chooses for her—a fairy tale story, complete with a charming prince—instead of finding her own happily ever after.

Sarah Prineas's bold fairy tale retelling is a dark and captivating world where swords are more fitting than slippers, young shoemakers are just as striking as princes, and a heroine is more than ready to rescue herself before the clock strikes midnight.
Ash & Bramble is a fun, dark and twisted tale! Although the first half wasn't as enthusiastic, the second half of the book totally makes up for it! And even though the characters were not perfect, their flaws will have you turning those pages!
If you're looking for a happy Cinderella re-telling then this is not the book for you. Ash & Bramble is more than what meets the eyes. No, this story is unique on its own with some sick plot twists! And if you love dark plots, then you have to read this book.
From the very beginning of the story, Ash & Bramble will make your head spin. With WTF is going? To wait, no way, that did not just happend comments. The main character, Pin, will have you second guessing yourself of what is going on with her. I'm not planning to go into details because it will give the story away. Just be aware, if you're not a fan of love triangles, then stay away! However, if you love chaos and madness, then say hello to Ash & Bramble.
Despite the dark twists, the book has a happy ending. Pin is the perfect example of an independent young lady. She's not willing to depend on anyone but herself. Not even fate can hold her down. No, she will do everything and anything to choose her own adventures. A sick dark tale with a gripping, magical and inspiring end.