---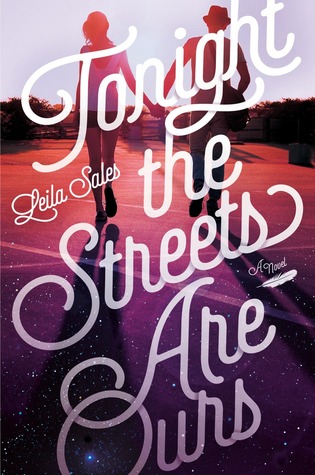 Tonight the Streets Are Ours
Author:
Leila Sales
Reading Level: Young Adult
Genre: Contemporary
Released: September 15th 2015
Review Source: Farrar Straus and Giroux
From the author of This Song Will Save Your Life comes a funny and relatable book about the hazards of falling for a person you haven't met yet.

Seventeen-year-old Arden Huntley is recklessly loyal. Taking care of her loved ones is what gives Arden purpose in her life and makes her feel like she matters. But she's tired of being loyal to people who don't appreciate her—including her needy best friend and her absent mom.

Arden finds comfort in a blog she stumbles upon called "Tonight the Streets Are Ours," the musings of a young New York City writer named Peter. When Peter is dumped by the girlfriend he blogs about, Arden decides to take a road trip to see him.

During one crazy night out in NYC filled with parties, dancing, and music—the type of night when anything can happen, and nearly everything does—Arden discovers that Peter isn't exactly who she thought he was. And maybe she isn't exactly who she thought she was, either.
I'm not sure why but I'm having a really hard time trying to review this book. I've been thinking about it for a week now and I'm still just as confused about my feelings towards this book. When I did enjoy reading it, it was quick and fun, but then I wasn't too sure about how I felt towards everything that transpired.
If Arden Huntley is anything she is recklessly loyal, just like her 'Just Like Me Doll' described. She was fiercely loyal to her friends, picking up the pieces of their mistakes, taking the fall for their shortcomings, and the same went for her family. So everything started to change once Arden's mother just up and left and moved to New York, and she took the fall for her best friend's pot stash. So one night she found herself googling "why doesn't anyone love me as much as I love them" when it brings her to Peter's blog
Tonight the Streets Are Ours
. She becomes consumed with his story, starting from day one and reading through to present day. She reads about his brother who just ran away, this amazing girl that waltzes in his life, and all his hopes and dreams. After a disastrous one year anniversary with her boyfriend, Arden decides just to be reckless and go on a road trip to New York and find Peter, a person who knows what it's like to love someone fiercely and have the love half full in return. But there's always another side of the story, the truth, and it's not always as it seems.
"If you're going to have the tortured soul of an artist, then you might as well create some art while you're at it."
Alright, so I did enjoy story overall, and I would definitely like to read another book by Leila Sales. I just don't think I took a whole lot away from this book, maybe I didn't relate to the situations or characters enough. And maybe I sort of thought it was creepy that a blog reader would go and search for the blog owner, even if the owner offers up enough information about himself that it wasn't hard to do so. She helps people even when they don't ask, which is loyal, but it's not always warranted. And maybe the people you surround yourself around need to make their mistakes, that's the only way you learn something, getting knocked down and having to pick yourself back up again.
So would I recommend this? Sure. It may not exactly have been MY book but I definitely want to read more by Leila Sales because her writing was what kept me involved the whole time.