---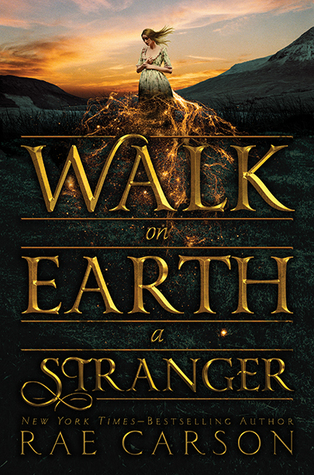 Walk on Earth a Stranger
The Gold Seer Trilogy #1
Author: Rae Carson
Reading Level: Young Adult
Genre: Fantasy
Released: September 22nd 2015
Review Source: Greenwillow Books
Lee Westfall has a secret. She can sense the presence of gold in the world around her. Veins deep beneath the earth, pebbles in the river, nuggets dug up from the forest floor. The buzz of gold means warmth and life and home—until everything is ripped away by a man who wants to control her. Left with nothing, Lee disguises herself as a boy and takes to the trail across the country. Gold was discovered in California, and where else could such a magical girl find herself, find safety?

Walk on Earth a Stranger, the first book in this new trilogy, introduces—as only Rae Carson can—a strong heroine, a perilous road, a fantastical twist, and a slow-burning romance. Includes a map and author's note on historical research.
As I mentioned before, I am not a fan of Western stories. I've given it a tried but this is something that does not catches my attention. Although Walk on Earth a Stranger covers The Gold Rush era, I have to admit the only reason why I kept turning those pages is the fact that I loved the main character, Lee Westfall.
Lee's parents were killed because of her secret power. She can sense the presence of gold in the world around her. How cool is this? I would be the richest person on earth! Who wouldn't want Lee all by themselves?
As you know in this era, women were just properties. They did not have any saying. They were to be owned and be controlled by men. However, Lee is not easy to control. She wants to be herself and is determined to take a journey on her own. After all she is the one with the powers. She finds herself a new life as a boy and begins her adventure. However, the person that killed her parents is looking for her. After everything, he is not willing to give up easily.
Walk on Earth a Stranger is slow paced. This is due to the fact that Lee sets herself to a journey. She wants to travel to California. Back then the only thing they had as transportation were horses. Which is why I find myself not being fan of this genre. I love technology! I love my car, airplanes and I just love getting everything right away. So if you don't mind slow pacing, then this book will be perfect for you!
If you're a fan of Carson's The Girl of Fire and Thorns series, like myself, then you know her writing exceeds as the story progresses. Little by little, her story moves just for her to throws you a curveball. I mean, she sure knows how to bring in a packed-action story! Therefore my friends, I will for sure be waiting for the next book!
---