---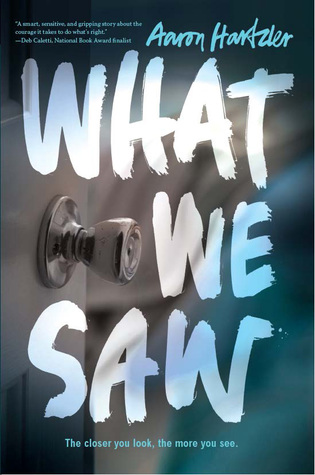 What We Saw
Author: Aaron Hartzler
Reading Level: Young Adult
Genre: Contemporary
Released: September 22nd 2015
Review Source: Harper Teen
Kate Weston can piece together most of the bash at John Doone's house: shots with Stacey Stallard, Ben Cody taking her keys and getting her home early—the feeling that maybe he's becoming more than just the guy she's known since they were kids.

But when a picture of Stacey passed out over Deacon Mills's shoulder appears online the next morning, Kate suspects she doesn't have all the details. When Stacey levels charges against four of Kate's classmates, the whole town erupts into controversy. Facts that can't be ignored begin to surface, and every answer Kate finds leads back to the same question: Where was Ben when a terrible crime was committed?

This story—inspired by real events—from debut novelist Aaron Hartzler takes an unflinching look at silence as a form of complicity. It's a book about the high stakes of speaking up, and the razor thin line between guilt and innocence that so often gets blurred, one hundred and forty characters at a time.
Mark your calendar! September 22nd is the day to purchase this book. And you don't want to miss out! Not only does this book has solid story but it provides a powerful message about rape. The way is told, it will captivate you from beginning to end. I LOVED how everyone tried to look the other way, but it took ONE person to stand and make a difference… Well yes, our heroine of this book was OUTSTANDING. Kate is such a wonderful protagonist. In just the fact that she did not follow the crowd, the way she stood up and said no – not only to her friends but her parents - the way she followed her guts, well bravo Kate. Bravo. It takes one person to make a HUGE differences. And What We Saw is the perfect example. So make sure you read it!
As you know, I am a sucker for covers. I tend to not read the premises of novel and go by the cover. This one was no exception. I wanted to read this book because I honestly believed it would be a scary story with some mystery behind it (according to the cover and title). Well, this book is not THAT KIND of terrifying. No, instead this book shows you how a community can stereotype a person by the way they dress and/or act. By their "social class". The fact that looking away and not getting involved, is just another way of not caring. I was horrified by the actions of many characters in this book. Yet it took ONE person – our main character, Kate, to make an impact. Kate's concerns and anger throughout the book makes this story very realistic. Is like stepping in her shoes and seeing injustice unraveling. The ignorance of this community is very painful to read – and you will experience this along with Kate. Read this book and trust me you will shocked how this book will cause you many reactions.
To say the least, What We Saw is a story of a young girl that was raped. A girl that every believed she was "asking for it". There is no such thing as "she was asking for it". When someone says no, IT MEANS NO. It doesn't matter if this person acts flirty, it doesn't matter if this person dresses in a provoke manner, the answer is still no. Let alone if this person is not in the right state of mind. It was irritating to read the reactions of the students. Worst, how Kate's parents told her to stay out of it. To look the other way and pretend this never happened. Thankfully, Kate couldn't shake the feeling that something was off. The will to discover the truth – and not follow the rest of the crowd. This is a true hero. A person of courage. A person who took her time to research and to take actions that matter. Oh you clever girl.
What We Saw is a must read. I recommend this to everyone. I applause Aaron Hartzler for this outstanding story. Trust me you won't be disappointed. Go and pre-order.
Thank you
ReadingTeen
for the copy!