I'm extremely honored to be part of Forever With You review tour for author Jennifer L. Armentrout!
---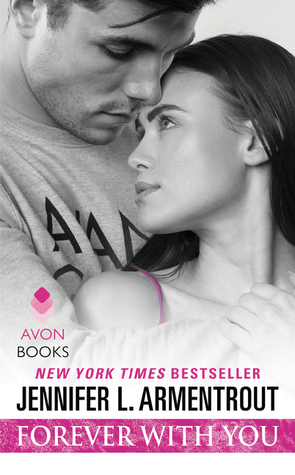 Forever With You
Wait for You #5
Author: Jennifer L. Armentrout
Reading Level: New Adult
Genre: Contemporary Romance
Released: September 29th 2015
Publisher: Avon
In the irresistibly sexy series from #1 New York Times bestselling author Jennifer L. Armentrout, two free spirits find their lives changed by a one-night stand…

Some things you just believe in, even if you've never experienced them. For Stephanie, that list includes love. It's out there. Somewhere. Eventually. Meanwhile she's got her job at the mixed martial arts training center and hot flings with gorgeous, temporary guys like Nick. Then a secret brings them closer, opening Steph's eyes to a future she never knew she wanted—until tragedy rips it away.

Nick's self-assured surface shields a past no one needs to know about. His mind-blowing connection with Steph changes all that. As fast as he's knocking down the walls that have kept him commitment-free, she's building them up again, determined to keep the hurt—and Nick—out. But he can't walk away. Not when she's the only one who's ever made him wish for forever . . .
I can't believe this series is over! Such a bittersweet feeling.
Although this may be the end, do NOT fear and leave this for last. No, make sure you pick your copy on September 29th and read it. The moment I received the review copy, I put everything aside and read Forever With You. And it was outstanding.
In case you didn't know, I love Wait for You series. Jennifer is an amazing writer and her stories are what The Doctor would call: Fantastic. And this one was a tearjerker! I honestly did not see it coming. I was an emotional wreck after reading this story. It was so emotional and heart touching and even writing this review is making me cry. Jennifer outdid herself with this story!
Forever With You is the story of Stephanie and Nick. Stephanie doesn't mix business and pleasure. No, her mind is set to be someone in life. She has everything planned out. She is ready to work hard and accomplish her goals. In addition, she doesn't have time to be in a serious relationship. Stephanie just wants to have a good time. And having a one night stand with hottie Nick is something she wants to have. And she gets it.
As you may recall from the previous book, Nick is another person that loves one night stands hook ups. He doesn't do well with relationship. He gets what he wants and then leaves a girl behind. Unlike his many night adventures, a night with Stephanie will turn his life upside down. Nick will be the guy whom he never expected. Boy, does Stephanie leaves him wanting more. And this line had me giggling like a two years old:
"It's her. The one you're going to fall for and fall hard. Oh, boy, you have so met your match. Totally."
Nick indeed met his match!
Stephanie is the perfect companion for him. These two truly belong together. Just when things are going great, Jennifer throws a wrecking ball and BOY, does it hurt! This event will have you weeping. Like. No. Other. I will not tell you in details about this because trust me, it is worth finding out yourself.
If you think the others stories of this series are tough, wait until you read Forever With You. Jennifer will leave you speechless after you finish this story. Read it and love it. Because surely you will fall in love with yet another of Jennifer's stories! A perfect way to end such an incredible series.
And don't miss the previous titles in the Wait for You Series!
---
# 1 NEW YORK TIMES and USA TODAY Bestselling author Jennifer lives in Martinsburg, West Virginia. All the rumors you've heard about her state aren't true. When she's not hard at work writing she spends her time reading, working out, watching really bad zombie movies, pretending to write, and hanging out with her husband and her Jack Russell Loki.
Her dreams of becoming an author started in algebra class, where she spent most of her time writing short stories….which explains her dismal grades in math. Jennifer writes young adult paranormal, science fiction, fantasy, and contemporary romance. She is published with Spencer Hill Press, Entangled Teen and Brazen, Disney/Hyperion and Harlequin Teen. Her book Obsidian has been optioned for a major motion picture and her Covenant Series has been optioned for TV.
She also writes adult and New Adult romance under the name J. Lynn. She is published by Entangled Brazen and HarperCollins.
Follow the tour:
September 25 Jenuine Cupcakes | September 26 Step Into Fiction & The Cover Contessa
September 27 Nose Stuck in a Book | September 28 Book Bitches Blog, Four Chicks Flipping Pages
& Vi3tbabe
September 29 Reviews by Tammy & Kim, All Romance Reviews, K-Books,
Seeking Book Boyfriends, The Irish Banana Review, Schmexy Girl Book Blog, Summer's Book Blog
September 30 Stuck in YA Books | October 1 A Literary Perusal
October 2 The Unofficial Addiction Book Fan Club