---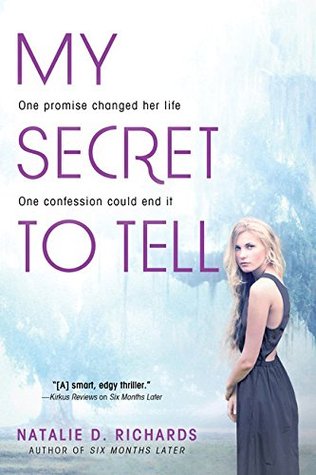 My Secret to Tell
Author: Natalie D. Richards
Reading Level: Young Adult
Genre: Contemporary
Released: October 6th 2015
Publisher: Sourcebooks Fire
There was blood on his hands. Where was the guilt in his eyes?

Emmie's had a crush on her best friend's brother forever. Deacon is the town bad boy who's always in trouble, but she sees his soft side when he volunteers with her at the local animal shelter. She doesn't think he's dangerous…until he shows up in her bedroom with blood on his hands.

Deacon's father has been violently assaulted and Deacon is suspect number one. Emmie's smart enough to know how this looks, but she also knows Deacon's biggest secret—he's paralyzed by the sight of blood. She's sure he didn't do this. Or did he? Because even Deacon's own sister thinks he's guilty…
---
Excerpt
"Emmie?"
My name lands somewhere between a hiccup and a sob, and my feet stall out on the sidewalk in front of my house. I adjust my grip on the phone, hoping I misheard her tone. This doesn't sound like Chelsea. This voice is breathless.
Frightened.
"I'm here," I say. "What's up? You don't sound right."
"I'm not." She takes a shuddery breath.
My shirt's sticking to my back and cicadas are click-buzzing the end of another blistering day, but I go cold. Something's wrong.
Wrong, wrong, wrong.
"It's my dad, Emmie," she says. I can tell she's crying.
I grab my chest. It's too tight. Burning. "What happened?"
Her words all tumble out on top of one another, interrupted by shaky breaths. I try to pick out pieces that make sense. "He's hurt—bleeding—we're behind the ambulance and I can't—he's not—someone attacked him."
I start climbing the porch steps, because she'll need me. I'm her best friend, so I should be there. I need to change clothes and go. "You're on the way to the hospital, right? They'll help him there."
Another sharp breath. "I don't know if they can. He's so bad. So bad."
My heart clenches. "Where are you?"
"We're almost there. Joel's with me."
"Okay, good. I'm coming," I say, crossing my porch and hauling my front door open. "Let me just call Mom. I'll borrow the car."
Chelsea's still crying when I storm down the hallway toward my bedroom.
"Emmie, I can't find Deacon…"
"Your brother never answers his phone," I say, pushing open my door. "I'll run by the docks first and—"
"No. No, he was there. He was at the house."
Chelsea makes a strangled sound, and I notice the liquid-thick heat in my bedroom. The kind of heat that tells me the air conditioner is broken. Or my window is open.
My gaze drags to my fluttering white curtains, to the dark smudge on the windowsill.
Chelsea's voice goes low and raspy. "He ran, Emmie. God, he was there with Dad. He was in the house, but he ran."
I swivel with an invisible fist lodged in my throat. My bathroom door is open, a red-black smudge beneath the knob.
My mouth goes dry, my pulse thumping slower than it should. Then I see the blood on the floor by my sink, and my heart tumbles end over end.
"We're here. I'll call soon," Chelsea says and hangs up.
I see him, his back to my tub and his dark head bowed on one bent knee. Oh God.
He's covered in blood. It's on his legs, his hands. Dripping onto my white tile floor. He looks up, and my heart goes strangely steady.
I take a breath that tastes like purpose. "Deacon?"
---
At seven, Natalie D. Richards wrote about Barbara Frances Bizzlefishes (who wouldn't dare do the dishes.) Now she writes about awesome girls, broody boys, and all things dark and creepy. Natalie lives in Ohio (Go Bucks!) with her techno-wiz husband, three amazing kids, and a seventy pound dust-mop who swears he's the family dog. Her psychological thriller, Six Months Later, will be released in October 1, 2013 by Sourcebooks Fire. Until then, you'll probably find her writing her next book or trying to wade through the towers of dog-eared paperbacks that have taken over her bedroom.