---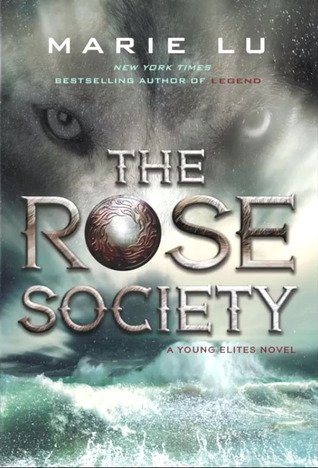 The Rose Society
The Young Elites # 2
Author: Marie Lu
Release Date: October 13th 2015
Publisher: G.P. Putnam's Sons Books for Young Readers
From New York Times bestselling author Marie Lu comes the second book in the exhilarating Young Elites series

Once upon a time, a girl had a father, a prince, a society of friends. Then they betrayed her, and she destroyed them all.

Adelina Amouteru's heart has suffered at the hands of both family and friends, turning her down the bitter path of revenge. Now known and feared as the White Wolf, she and her sister flee Kenettra to find other Young Elites in the hopes of building her own army of allies. Her goal: to strike down the Inquisition Axis, the white-cloaked soldiers that murdered her love, the Crown Prince Enzo Valenciano.

But Adelina is no heroine. Her powers, fed only by fear and hate, have started to grow beyond her control. She does not trust her newfound Elite friends. Teren Santoro, leader of the Inquisition, wants her dead. And her former friends, Raffaele and the Dagger Society, want to stop her thirst for vengeance. Adelina struggles to cling to the good within her. But how can someone be good, when her very existence depends on darkness?
INTERVIEW
Hello Marie, welcome to Once Upon a Twilight! We are thrilled to have you on the blog today.
Thank you! I'm thrilled to be here.
We would love to know, would you rather be a super hero or super villain? What would you call yourself?
If we're talking about a fictional world, because of course, I'd honestly rather be a supervillain. They get to have all the fun, while the superheroes spend all their time cleaning up the supervillains' messes (and being emo about it in the process). A name is harder, though! Hmm…. How about Marieficent?
If you were a hero or villain, what would you do and what would differentiate you from others?
Well, I guess I threw my lot in with the villains, didn't I? I would try to cut more deals with the good guys. You know you're not going to win in the end—so you might as well try to get them to compromise on something, instead of throwing all of your muhaha behind something that the good guy is only going to squish. (Wait, does that make me a politician?)
If you're planning to celebrate this Halloween, what would you dress up as?
I'm thinking about dressing up as Gazelle, from Kingsmen! (I'm not really sure how to do her blade legs, though)
If you were a character in your book, whom would your teen self most likely be friends with?
I'd probably have befriended Day and June, because I was the most like Tess when I was a teen. From The Young Elites, I would've been buddies with Gemma and Raffaele. I might also have followed Michel around, because he's an artist.
What's one thing you admire most about your character, Adelina?
Adelina is hard to admire, but I do love that she is free of the protagonist's burden—that she can say, "Look, I'm going to go do this thing because I want to and it makes me feel good." I respect that about her.
Is there anything that you would like to say to your readers and fans?
You guys are the reason why I do what I do. Thank you for reading, for being so passionate, and for being so ridiculously talented! I hope you'll enjoy The Rose Society!
---
I write young adult novels, and have a special love for dystopian books. Ironically, I was born in 1984. Before becoming a full-time writer, I was an Art Director at a video game company. Now I shuffle around at home and talk to myself a lot. :)
I graduated from the University of Southern California in '06 and currently live in LA, where I spend my time stuck on the freeways.
1 winner (US only) will receive:
- A hardcover of THE ROSE SOCIETY
- A Penguin Teen tote bag
- A poster for THE YOUNG ELITES series
- A basket inspired by a few of Marie Lu's favorite things!
a Rafflecopter giveaway
Follow the TOUR
Forever Young Adult – guest post – 10/19
Oh The Book Feels – interview – 10/20
Once Upon a Twilight – interview – 10/21