---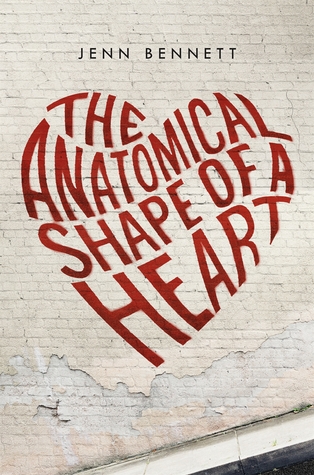 The Anatomical Shape Of A Heart
Author:
Jenn Bennett
Reading Level: Young Adult
Genre: Contemporary
Released: November 3 2015
Review Source: Feiwel & Friends
Artist Beatrix Adams knows exactly how she's spending the summer before her senior year. Determined to follow in Leonardo da Vinci's footsteps, she's ready to tackle the one thing that will give her an advantage in a museum-sponsored scholarship contest: drawing actual cadavers. But when she tries to sneak her way into the hospital's Willed Body program and misses the last metro train home, she meets a boy who turns her summer plans upside down.

Jack is charming, wildly attractive . . . and possibly one of San Francisco's most notorious graffiti artists. On midnight buses and city rooftops, Beatrix begins to see who Jack really is—and tries to uncover what he's hiding that leaves him so wounded. But will these secrets come back to haunt him? Or will the skeletons in Beatrix's own family's closet tear them apart?
Bex Adams has been deemed the weird girl - and yet, she's okay with that. She knows that it isn't every girls dream to draw corpses, especially corpses who are in the middle of being dissected. But that has always left her as an outcast. When she meets Jack and realizes that he is the Golden Apple Vandal she isn't sure if she should stay away from him, or if maybe he could be the one person who isn't afraid of her oddities.
I swear I'm going to have to stop reading (never going to happen) otherwise I'm going to have a million book boyfriends. Jack has only been added to that ever growing list, and I feel like he's at least in the top 10, maybe even 5. He's amazingly sweet, and he's got a lot going on with his life yet takes the time to let Bex know just how much she means to him. Who wouldn't love that right?
The ending - it was perfect. Honestly, I just wrote a review about how I want books to give me a "____ months/years later" at the end of their story so that I can figure out if these characters really do get happy endings. And that is exactly what Bennett gave to me. She gave me 4 months later. And honestly that left me more satisfied with the ending than I have been in a while.
This is Bennett's first book in the YA world - and honestly I feel like she nailed YA on the head. The characters are lovable. The romance is perfect. The story is honest. I feel like any lover of YA will love this book, and I feel like any reader should pick this book up and give it a shot!