Welcome to our stop on the A Shot Of Reckless tour for Maddie Paige. This tour is hosted by
Me, My Shelf and I
.
---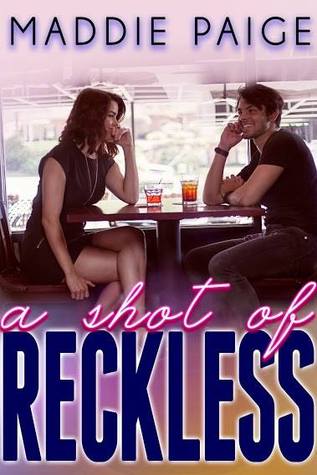 A Shot Of Reckless
Author: Maddie Paige
Reading Level: New Adult
Genre: Romance
Released: October 14 2015
Review Source: Elephantine Publishing
Art major, Roxy Thompson, is a ball of fun—but she's also careful to keep her walls intact when it comes to men. She likes relationships just like her coffee: light and sweet. After having her heart shattered once before, she's determined not to ever feel that broken again.

College senior, Lake Foster, is just tempting enough to make Roxy rethink her rules of engagement. Suddenly, high-dollar shots and a no-strings night out aren't enough anymore. But Lake isn't looking for long-term. His future is set, and in four months, he intends to graduate and leave Georgia—and everything in it—behind. Luckily, short-term fun is Roxy's specialty, and Lake can't resist what he promises will be a fleeting taste.

Will Roxy and Lake really walk away when their time is up? They only have one shot to find out.
This book may be unsuitable for people under 17 years of age due to its use of sexual content, drug and alcohol use, and/or violence.
Roxy has lived her life in constant fear of trusting others just to have them throw that trust away. After a high school boyfriend betrayed her trust she turns into a girl who wants no strings attached, not realizing what she is missing. Lake has dealt with people all around him who have only been able to self-destruct and he loves to help them, but is tired of needing to do it all the time. When the two meet they never expect anything to come from it, but over time they seem to only be able to think about each other. With Roxy always pushing him away, Lake has to try his hardest to make her change her mind? Can he do it, or is this just another person Lake is watching self-destruct?
Let's start with this: Hot, Sexy, Heart-Wrenching, Feel good, Adorable, FANTASTIC! Honestly this book was better than I anticipated. If you're a fan of feel good romances or if you're a hopeless romantic yourself you'll want to pick this up. Lake takes his chances on his Pop Rox and Roxy comes out of her shell. All of the characters show growth throughout the book - although some of them are a little more sudden than others, I still enjoyed it.
Roxy is witty, the first chapter you immediately fall in love with her character. She's the badass who doesn't think twice. She does what she wants, in this case sells her ex's belongings, and she doesn't look back. Then when she starts flirting with Lake she has this power to her that makes me wish I had her ability when it came to flirting. Lake calling Roxy, Pop Rox only made me want to change my name to something so that an amazingly gorgeous guy can nickname me something as adorable as that. Like Bri....the best a guy can do is call me Brie Cheese...and I've been called that my whole life so I hate it now and would probably punch a guy who called me that. So now I'm basically wanting to change my name to Roxy just to be called Pop Rox.
Honestly with stories like this I always want more at the end. I want more of the story. I feel like, most of the time, I just want to be completely 100% sure that these characters are getting their happy ending. I know that most readers will take a book ending and continue thinking about their story and create their own ending for the characters. And I am also one of those people. But sometimes I just want the author to help me out, be like "Ten Years Later" or even "12 months later" and I'd be happy.
---
Writing duo Maddie Paige bonded over books, shirtless boys and Step Up movies. One lives for
her coffee while the other prefers hot chocolate. Both lovers of romance, they tag teamed a
manuscript over late nights at Steak 'n Shake. They live in Atlanta, GA and A Shot of Reckless
is their debut.
GIVEAWAY
1 Winner will get:
2 signed books by authors tbd
Plus a basket of our character Roxy's fave things:
Cookies, Coffee mug, Fave scarf , Her necklace, A trusty shot
A DVD of fave hot shirtless boy movie, and the much important sketch journal
Must be 13+ To Enter | Ships in US only
a Rafflecopter giveaway