Welcome to Day #1 of the What We Left Behind Blog Tour! To celebrate the release of
What We Left Behind
by Robin Talley (10/27/15), blogs across the web are featuring exclusive content from Robin, as well as 10 chances to win a copy of
What We Left Behind
or a 7-book LGBT YA Prize Pack chosen by Robin herself in the
Grand Prize Giveaway
!
---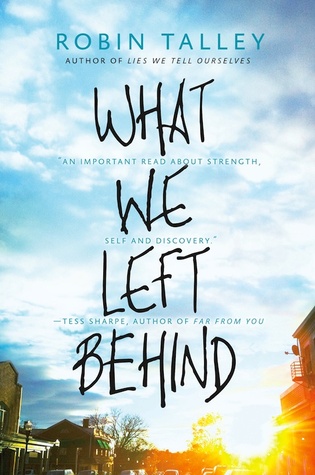 What We Left Behind
Author: Robin Talley
Reading Level: Young Adult
Genre: Contemporary
Released: October 27th 2015
Publisher: Harlequin Teen
From the critically acclaimed author of Lies We Tell Ourselves comes an emotional, empowering story of what happens when love isn't enough to conquer all.

Toni and Gretchen are the couple everyone envied in high school. They've been together forever. They never fight. They're deeply, hopelessly in love. When they separate for their first year at college—Toni to Harvard and Gretchen to NYU—they're sure they'll be fine. Where other long-distance relationships have fallen apart, their relationship will surely thrive.

The reality of being apart, however, is a lot different than they expected. As Toni, who identifies as genderqueer, falls in with a group of transgender upperclassmen and immediately finds a sense of belonging that has always been missing, Gretchen struggles to remember who she is outside their relationship.

While Toni worries that Gretchen, who is not trans, just won't understand what is going on, Gretchen begins to wonder where she fits in Toni's life. As distance and Toni's shifting gender identity begins to wear on their relationship, the couple must decide—have they grown apart for good, or is love enough to keep them together?
Robin's Top 5 Novels About Queer Teens
This post was a lot harder to write than I thought it would be. There are many, many amazing YA books out there with LGBTQIA leads, and I'm awesomely lucky to have been able to read so many of them. So I'm going to cheat a bit ― I'm going to name my top 5, but I'm also going to include another 5 honorable mentions. My top 5 books with LGBTQIA main characters are:
The Miseducation of Cameron Post by Emily Danforth
. This book, this book, how I love to love this book. Cameron Post is a queer teen girl growing up in 1990s Montana whose parents die in a car crash the same day she kisses a girl for the first time ― and her first reaction to their deaths is relief that now her parents won't find out she's queer. She winds up in the care of her conservative religious aunt, who later sends her to ex-gay camp. This book doesn't tell my story, not exactly, but there's enough in here that's reminiscent of my own 1990s coming-out-to-self experience that this book is extremely heart-clutchy for me. It's also gorgeously written and has been subject to banning attempts, so you should read it both for the beautiful language and to stick it to the man.
Ask the Passengers by A.S. King
. This is the book I wish I'd had as a teenager. It's also a small-town-girl-coming-of-age-and-coming-out story, with a lot of complicated family dynamics, well-meaning-but-misguided friends and romantic partners, and some of the most thorough, relatable soul-searching I've ever encountered in fiction. When teenage girls come up to me at events and ask in low voices what queer books I recommend, this is the one I tell them about.

If You Could Be Mine by Sara Farizan
. Sara's first novel follows two girls in Iran whose romance is a closely guarded secret ― until one of the girls gets desperate and decides to pursue sex-reassignment surgery, even though she's cisgender, thinking it's the only way she and her girlfriend can be together (being trans is legal in Iran, but being gay isn't). It's an incredibly sad story, and if you (like me) don't know much about day-to-day life in modern Tehran, it's also an opportunity to learn a lot.

Far From You by Tess Sharpe
. A murder mystery with a disabled bisexual lead who's grieving the death of her closeted girlfriend, Far From You is another story that's deeply sad, but also hugely gratifying. Watching Sophie recover from everything she's been through as she tries to get to the bottom of her girlfriend's death is a wrenching process, because she's such a thoroughly drawn character that you can't help but feel everything she feels every step of the way. It's also a fascinating exploration of the delicate balance that can form in LGBTQIA relationships when one partner wants to come out but the other wants to stay in the closet.

The Summer Prince by Alaya Dawn Johnson
. This book is gorgeous, lyrical, thought-provoking, fantastical and still very, very real. Set in a dystopian future on an island off the coast of Brazil, the story follows June, Gil, and Enki, who form a decidedly queer sort-of-not-really love triangle, as they slowly begin to unravel the problematic ideology at the core of their matriarchal society. One of my most fascinating and unusual reads in recent years.
Here are five more books that very nearly made the list:
I Am J
by Cris Beam
Simon vs. the Homo Sapiens Agenda
by Becky Albertalli
Just Girls
by Rachel Gold
Otherbound
by Corinne Duyvis
The Five Stages of Andrew Brawley
by Shaun David Hutchinson I actually could've done another round of honorable mentions, and another after that (and even more if I'd expanded this beyond novels to include memoirs, anthologies, nonfiction, etc.).
There are so many amazing books out there for teenagers starring LGBTQIA characters. Now we've just got to work on getting them into the hands of the readers who need them!
---
I grew up in Roanoke, Virginia, and escaped to Washington, D.C., at the first opportunity. I now live with my wife, our antisocial cat, and our goofy hound dog on Capitol Hill and work for a progressive nonprofit organization. I spend my nights and weekends writing young adult fiction about queer characters, reading books, and having in-depth conversations with friends and family about things like whether Jasmine's character motivation was sufficiently established in Aladdin.
My first novel, Lies We Tell Ourselves, was released in September 2014 by Harlequin Teen. It's set in 1959 Virginia, and it's about a black girl who's one of the first to integrate an all-white high school, and the white girl with whom she ultimately falls in love. My next book, What We Left Behind, follows a high school couple -- Gretchen, who identifies as a lesbian, and Toni, who identifies as genderqueer -- whose relationship is tested when they're separated for their first year of college. It's coming out in November 2015.
One (1) winner will receive a 7-book LGBT YA Prize Pack featuring the 5 novels chosen by Robin above (The Miseducation of Cameron Post by Emily Danforth, Ask the Passengers by A.S. King, If You Could Be Mine by Sara Farizan, Far From You by Tess Sharpe, The Summer Prince by Alaya Dawn Johnson), plus copies of both of Robin Talley's novels (What We Left Behind and Lies We Tell Ourselves)
Enter via the rafflecopter below
US/Canada Only
Ends 11/1 at midnight ET
a Rafflecopter giveaway
One LUCKY OUAT Reader will win a final copy of What We Left Behind!
a Rafflecopter giveaway