Welcome to our stop on The White Rose tour for Amy Ewing. This tour is hosted by
Rockstar Book Tour.
---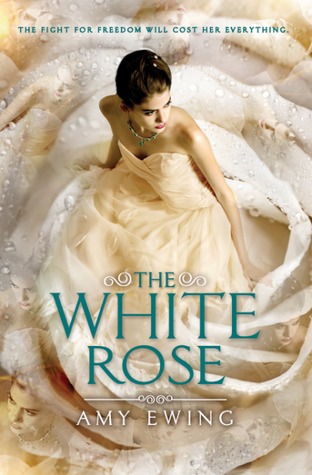 The White Rose
The Lone City #2
Author: Amy Ewing
Reading Level: Young Adult
Genre: Dystopia
Released: October 6th 2015
Publisher: HarperTeen
Violet is on the run. After the Duchess of the Lake catches Violet with Ash, the hired companion at the Palace of the Lake, Violet has no choice but to escape the Jewel or face certain death. So along with Ash and her best friend, Raven, Violet runs away from her unbearable life of servitude.

But no one said leaving the Jewel would be easy. As they make their way through the circles of the Lone City, Regimentals track their every move, and the trio barely manages to make it out unscathed and into the safe haven they were promised—a mysterious house in the Farm.

But there's a rebellion brewing, and Violet has found herself in the middle of it. Alongside a new ally, Violet discovers her Auguries are much more powerful than she ever imagined. But is she strong enough to rise up against the Jewel and everything she has ever known?

The White Rose is a raw, captivating sequel to The Jewel that fans won't be able to put down until the final shocking moments.
Guest Post
NOT ALL SUPER-HEROES WEAR CAPES, When someone mentions heroes, who do you think of?
You know, when someone mentions heroes to me, it's always easy to conjure up an image of Superman or Captain America, punching out bad guys and saving the world. But I think my favorite example of heroism comes from Harry Potter. In The Sorcerer's Stone, Neville tries to stop Harry, Ron, and Hermione from sneaking out at night. It's the first time Neville has shown anything resembling bravery and when Dumbledore awards him those final points for Gryffindor to win the House Cup, I just remember tearing up and thinking, YES. Courage is not necessarily about physical strength or fighting prowess. It can be as simple as standing up for what you believe in. And at the same time, it can be as difficult as standing up for what you believe in. It is so hard to choose between what is right and what is easy. And there is so much value in taking the harder road. As Dumbledore says, it takes just as much bravery to stand up to our friends as it does to stand up to our enemies. And that's the sort of courage I can identify with. I'll never be rushing off to battle aliens or overthrow an empire. But I'd like to think that I could be as strong as Neville, if I felt like I needed to stand up for something I believed in. Neville Longbottom taught me a lot about what it means to be brave.


---
Amy Ewing earned her MFA in Writing for Children at The New School and received her BFA at New York University. The Jewel started off as a thesis project and became her debut novel. She lives in New York City. You can visit Amy online at www.amyewingbooks.com or on Twitter @AmyEwingBooks.
1 winner will receive a signed finished copy of THE WHITE ROSE. US Only.
a Rafflecopter giveaway