---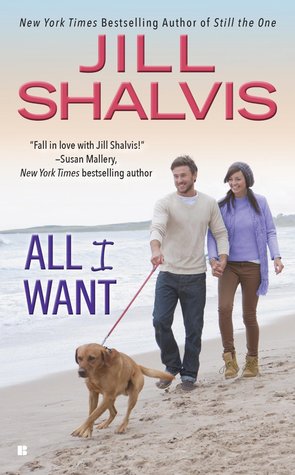 All I Want
Animal Magnetism #7
Author: Jill Shalvis
Reading Level: Adult
Genre: Contemporary
Released: October 6th 2015
Publisher: Berkley
From the "awesomely, incredibly talented"* New York Times bestselling author of Still the One, comes a sexy new Animal Magnetism novel set in Sunshine, Idaho, where the sky is the limit when it comes to love.

Pilot-for-hire Zoe Stone is happy to call Sunshine, Idaho, her home base. But her quiet life is thrown for a loop when her brother's friend Parker comes to stay with her for a week. The U.S. Fish and Wildlife special agent is a handsome flirt with a gift for getting under her skin. And the situation only escalates when Parker hires her to fly him around the area while he collects evidence on a suspected smuggler.

Now she has to live and work with the guy. But when they're in the air, she sees another side of him. He's driven, focused, and sharp. And while he enjoys giving commentary on her blind dates, she quickly realizes with a shock that it's Parker who gets her engines going…
I can't get enough of Jill! Her stories are truly addicting. The best part is, although All I Want is part of a series, you can read this as standalone. Which is perfect for romance lovers. So if you're a sucker at romance and you love animals, then this series is PERFECT for you.
Zoe is strong headed, in other words, stubborn. She is very independent and whatever she said she will do, no one would be able to changer her mind. Until she meets the ever so handsome Parker James. The bond these two create from the very moment they meet is strong... but also, hilarious. Zoe did something she would've never thought of doing, only to be caught off guard. This scene had me laughing so hard. Practically the entire book had me laughing. See, although Zoe is independent and is capable of doing anything she set her mind to do, she's terrible at fixing things around her house. TERRIBLE. Practically, her house needs some fixing but she's not willing to ask for help. Now that Parker is there to stay for "vacation", he finds ways to help.
Let's talk about Parker. Not only is he steaming hot, but he's a freaking special agent. This is something Zoe is not aware of. She thinks he's there for vacations, but little by little she and Parker open up to each other. However, what makes Parker even steamier is the fact that he wins a rescue dog's heart. Said what? Oh yes, did I forget to mentioned Zoe's rescue dog, Oreo? Shame on me. See Oreo is a dog that has suffered enough. Oreo is very scared of little things, sounds, let alone of humans. But with Parker, he has an instant connection with him and Oreo is thrilled to have a new person that will take care of him. Now you see why Parker is worth drooling? Even a timid dog is willing to take bets on him.
If you want to read a fun, adorable and funny love story, then no need to look further. All I Want by Jill Shavis is the perfect read. Between Zoe and Parker's funny dialogue, sexy scenes and sweet Oreo and two cute kittens, All I Want will make you want to be part of this story. Trust me, you will be grinning once you're done with this one.
Two lucky winners will win a copy of All I Want!
a Rafflecopter giveaway