---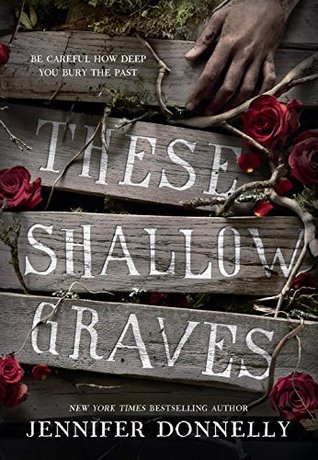 These Shallow Graves
Author: Jennifer Donnelly
Reading Level: Young Adult
Genre: Mystery
Released: October 27th 2015
Review Source: Random House Delacorte |
ReadingTeen
Set in gilded age New York, These Shallow Graves follows the story of Josephine Montfort, an American aristocrat. Jo lives a life of old-money ease. Not much is expected of her other than to look good and marry well. But when her father dies due to an accidental gunshot, the gilding on Jo's world starts to tarnish. With the help of a handsome and brash reporter, and a young medical student who moonlights in the city morgue, Jo uncovers the truth behind her father's death and learns that if you're going to bury the past, you'd better bury it deep.
Jo Montfort is like Katniss Everdeen. The girl wants to give voice to those that do not have any saying. She wants justice and she wants to bring truth to the public. She is not scared to tell her family she does not want to get marry and follow her dreams as a journalist. No, the girl has guts.
Yet her life is turned upside down, when she learns that her father is dead. She is told it was by accident, but Jo is not one that just goes by what people tell her. She will seek the truth about his death and it will become a dangerous road for her.
As Jo confronts a young reporter, Eddie Gallagher, he ends telling her the truth. Or at least a different story of what she originally told. Jo digs her father's past and the more she digs, more secrets are revealed. The more her life becomes in danger.
I loved how this book grabs your attention from page one. It brings some sense of mystery and like Jo, you just want to know the truth. As you put the clues together, because you obviously need to, the murder is a bit predictable. However, the facts are fun to put together that it doesn't really matter if it is obvious.
The fast paced, the twists, the mystery, a brave character… these are just some reasons why you need to read this book. This is the first time I read a book by Jennifer Donnelly and it will not be my last. She is such a fantastic story teller. You will be engaged with this story, so make sure to read this one! Lovers of mystery will sure have this as a favorite.