---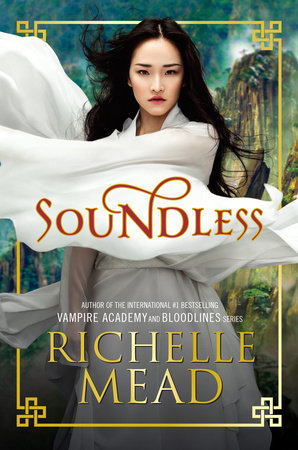 Soundless
Author: Richelle Mead
Reading Level: Young Adult
Genre: Historical Fiction
Released: November 10th 2015
Review Source: Razorbill
From Richelle Mead, the #1 internationally bestselling author of Vampire Academy and Bloodlines, comes a breathtaking new fantasy steeped in Chinese folklore.

For as long as Fei can remember, there has been no sound in her village, where rocky terrain and frequent avalanches prevent residents from self-sustaining. Fei and her people are at the mercy of a zipline that carries food up the treacherous cliffs from Beiguo, a mysterious faraway kingdom.

When villagers begin to lose their sight, deliveries from the zipline shrink and many go hungry. Fei's home, the people she loves, and her entire existence is plunged into crisis, under threat of darkness and starvation.

But soon Fei is awoken in the night by a searing noise, and sound becomes her weapon.

Richelle Mead takes readers on a triumphant journey from the peak of Fei's jagged mountain village to the valley of Beiugo, where a startling truth and an unlikely romance will change her life forever...
Richelle Mead is an expert at creating book boyfriends. I was really excited to read this one and really expecting more out of Soundless. Come on, she created my Adrian?! Of course, I was expecting another book boyfriend! Although Soundless is not a bad book to read, it felt short to the "Richelle blows my mind" mark.
Like everyone else, after reading the synopsis of Soundless, one cannot help but freak out about another book written by Richelle. A mining on top of a mountain where people are deaf and scarce of food? Oh sure, give me the story now. Yet when the story was given, I had a really hard time concentrating on the story.
The story goes as follow: Fei, our main character, is worried about her sister, Zhang. She is slowly losing her eyesight and will most likely taken away and cast as an outcast. Since she will no longer be able to help in the mining for the food that is much needed.To prevent this from happening, Fei and her childhood crush, Li, climb down the mountain to confront those that exchange their work for the very little food they receive. However, on her way down, Fei discover she is able to hear. Throughout their journey, Fei discover more things and soon is able to help her little village.
Okay, so there you have it. Now, my biggest issue of the story is the pacing. As a huge fan of Richelle, I'm expecting packed-action, crazy twists and oh the swoons... Needless to say, I did not get anything from this book. The characters did not do anything to my little heart.
Overall, I will not be tempted to re-read Soundless like Vampire Academy and/or Bloodlines. Despite everything, the story does contains love between family, it does give a message of loyalty, and it was a cute. However, it is a "this story will blow you mind" type of story.