---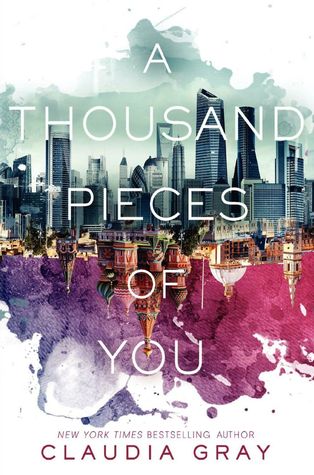 Ten Thousand Skies Above You
Firebird #2
Author:
Claudia Gray
Reading Level: Young Adult
Genre: Science Fiction | Time Travel
Released: November 3rd 2015
Review Source: Harper Teen
Every Day meets Cloud Atlas in this heart-racing, space- and time-bending, epic new trilogy from New York Times bestselling author Claudia Gray.

Marguerite Caine's physicist parents are known for their radical scientific achievements. Their most astonishing invention: the Firebird, which allows users to jump into parallel universes, some vastly altered from our own. But when Marguerite's father is murdered, the killer—her parent's handsome and enigmatic assistant Paul—escapes into another dimension before the law can touch him.

Marguerite can't let the man who destroyed her family go free, and she races after Paul through different universes, where their lives entangle in increasingly familiar ways. With each encounter she begins to question Paul's guilt—and her own heart. Soon she discovers the truth behind her father's death is more sinister than she ever could have imagined.

A Thousand Pieces of You explores a reality where we witness the countless other lives we might lead in an amazingly intricate multiverse, and ask whether, amid infinite possibilities, one love can endure.
Fear not, the sequel to A Thousand Pieces of You is as beautiful as the cover. Dare to say the cover is not beautiful because this cover is gorgeous. In addition to being stunning the story is as epic as the first. You will be flying thru those pages because you need to know what is to happen next.
Our beloved Marguerite is back to worlds she has been before and ones she has not been to before. While you're reading these new dimensions, you cannot help but bite your nails. You know don't what is going to happen and she is on a time clock. See, she is on the mission to search for Paul's soul. Yes, you read right. So each of these worlds were amazing but it was so hard not to think something bad was about to happen. It always does when something as important as this task is. My sweet, nerdy and amazing Paul. Gosh, I hope - no, she better complete this on time because I will cry a river if she doesn't.
There is so many crazy things this book contains but I cannot say because it will spoil the story. The wait for this book is so worth it. Claudia Gray did it again. A Thousand Skies About You is amazing as the first, filled with action-packed scenes and WTF moments. You will cry, you will freak out and you may even bit your nails out. The twists this book contains is shocking and simply f---ing amazing! Brilliant! Just brilliant.
Prepare for chaos!
Excerpt
Chapter One

The first time I traveled to another dimension, I intended to take a life. Now I'm trying to save one.

But I can't do that unless I save myself. At the moment, I'm running through the winding streets of a near-medieval Rome, trying not to get burned at the stake.

Welcome to the nonstop fun of traveling through alternate universes.

"She is the sorcerers' daughter!" someone from the mob shouts. Her voice echoes off the cobblestones, just like the jeers from the crowd around her. A few of them hold burning torches, the better to chase me through the night. "She bears the tools of their witchcraft!"

My parents are scientists, not sorcerers. In this universe, looks like nobody knows the difference.
What I'm carrying in the pockets of my robe or cloak or whatever you'd call this shapeless red thing—it's not witchcraft. It's a spyglass, a. k. a. a primitive handheld telescope. This six-inch-long gadget looks like a prop for steampunk cosplay: tortoiseshell sides, brass fittings, lenses ground by hand. But this might just be the tool that brings this dimension out of the Dark Ages—assuming it doesn't get my entire family killed first.

Panting, I dodge around every corner I come to, paying no attention to where I'm going. It's not like I have any idea where I am anyway. When I leap into one of my other selves—the other Marguerites, who live in these parallel dimensions—I don't get to access their memories. Some of their knowledge and ability carries over, but those are only the deeper, no-longer-wholly-conscious things. Knowing where the hell I am in this version of Rome? No such luck.
All I know is that I have to get away. Finding the Castel Sant'Angelo—and Paul, who should be there—well, that has to wait until I'm safe.

Of course, I could escape this dimension at any moment, thanks to the heavy weight on a chain around my neck. To anyone in this dimension, and virtually anyone in ours, it would look like nothing more than a large, fairly elaborate locket—if they even noticed it, which they probably wouldn't.

This isn't any old necklace. This doesn't belong in their reality. This is the Firebird.
The Firebird—the one and only device that allows human consciousness to travel through alternate dimensions. The invention of my mother, Dr. Sophia Kovalenka, with the help of my father, Dr. Henry Caine. The thing that can instantly transport my mind out of this universe completely and send me back to my own body, my own home, and safety. Even as I run through an alternate Rome in an ankle-length woolen dress and cloak, my stiff boots sliding against the rain-wet cobblestones on the road, I keep the Firebird clutched in one hand; if I lose this thing, I'm screwed.

But I won't go. I can't leave this dimension until I do what I came here to do.
I must save Paul Markov.

Excerpted from the book TEN THOUSAND SKIES ABOVE YOU by Claudia Gray. Copyright © 2015 by Amy Vincent. Reprinted with permission of HarperCollins.
---
Claudia Gray is a pseudonym. I would like to say that I chose another name so that no one would ever learn the links between my shadowy, dramatic past and the explosive secrets revealed through my characters. This would be a lie. In truth, I took a pseudonym simply because I thought it would be fun to choose my own name. (And it is.)
I write novels full-time, absolutely love it, and hope to be able to do this forever. My home is in New Orleans, is more than 100 years old, and is painted purple. In my free time I read, travel, hike, cook and listen to music. You can keep up with my latest releases, thoughts on writing and various pop-culture musings via Twitter, Tumblr, Pinterest, GoodReads or (of course) my own home page.
If you want to contact me, you can email me here, but your best bet is probably to Tweet me. I don't do follows on Twitter, but I follow everyone back on Tumblr, Pinterest and GoodReads.