Welcome to our stop on Frozen Tides tour for Morgan Rhodes . This tour is hosted by
PenguinTeen
.
---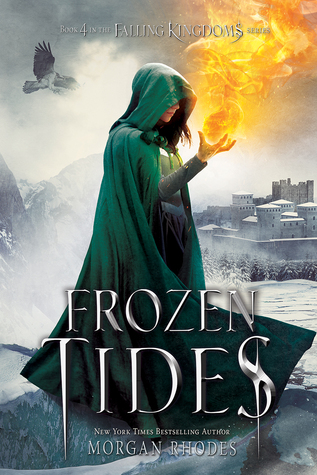 Frozen Tides
Falling Kingdoms #4
Author: Morgan Rhodes
Reading Level: Young Adult
Genre: Fantasy
Released: December 15th 2015
Publisher: Razorbill
Rebels, royals, and monsters wage war over the Mytican throne in the shocking fourth book of the Falling Kingdoms series, from New York Times bestselling author Morgan Rhodes.

CLEO: Reeling after a bloody showdown in Limeros ending with Amara's abduction of the water crystal, and a vacancy in the Mytican throne, Princess Cleo must cast aside her feelings and look toward her kingdom with the eyes of a Queen.

MAGNUS: With the kingdom in chaos, Princess Lucia still missing and quite possibly in danger, and a shocking realization about Cleo, the steely prince is once again torn between love and duty, leaving him wondering whether he's strong enough to rule his people.

LUCIA: The young sorcercess has had her vengeance after the cruel death of her first and only love. Heartbroken and unable to trust anyone, she allies with the awoken Fire god, who also seeks revenge.

JONAS: After escaping death by the skin of his teeth, the defeated rebel—along with a mysterious stranger–leader reunites with Princess Cleo, only to find himself a mere pawn in a dangerous hunt for the elusive Kindred.

KING GAIUS: Abandoned by Melenia and betrayed by his own children, Gaius flees Mytica and sails to Kraeshia, where he attempts to ally with the famously brutal emperor across the Silver Sea.
This is an Adult romance novel recommended for ages 18+ due to sexual content and mature subject matter.
I'm sure you've heard it before. Falling Kingdom being compared to Game of Thrones. Well, yes, yes indeed. You want to read it but haven't had the time to. Would you wait for whole season of A Game of Thrones to be over only to watch it later? No, of course not. Then I'm telling you now... Falling Kingdom series is not to be put aside.
Earlier this year I've read A Book of Spirit and Thieves. Another fantastic series by the very own Morgan Rhodes. When I was done with this story, I was amazed! Little after, I tried to pick the audibooks for Falling Kingdoms but for some reason, it didn't work for me. So I was one of you, those that haven't read the series, putting this series aside. WHAT A BAD MOVE! Late October, I decided to give the series another try. This time, I would be reading it.... Let me just say I read all three books in two days.
There are some books that you love and then there are books you become obsessed with. Falling Kingdoms, my friend, is one of them!
As you read the world of this series, you will easily fall in love with the world building, the characters, the twists, the politics and the madness. This fantasy series is by no means your typical fantasy story, well close to Game of Thrones.
To say the least, Frozen Tides is one heck of a sequel. The day I received the book, I had to put everything away and just read. Legit, read this book in one sitting. As the sequels are released, this story just keeps getting better and better. The more I read, the more I want this world to come to live. I am a firm believer that HBO should buy the rights and make this into a TV series. I think they would simply do justice to the amaziness it contains.
There is so many twists on this book and one of them I honestly screamed "I KNEW IT!"... at 3 in the morning. I'm sure my neighbors were not happy!
Gosh, the betrayals! The magic! THE DANGER! THE SECRETS! THE ROMANCE. OMG, LET ME NOT FREAK OUT BECAUSE I AM STARTING TO FREAK OUT!
There is so much I wish I could tell you about Frozen Tides! THIS BOOK WAS EPIC! I cannot tell you more because I will legit spoiled the story. And I love giving out spoilers but this is a story that YOU NEED TO READ!
Overall, Frozen Tides was beyond my expectations. Although Morgan just gave us a taste of SOMETHING I CANNOT SAY, I am counting down the days to get more of that SOMETHING. *giggles like a three year old*
If you haven't started this series, START RIGHT NOW, trust me you'll BE ADDICTED!
---
Morgan Rhodes lives in Ontario, Canada. As a child, she always wanted to be a princess—the kind that knows how to wield a sharp sword to help save both kingdoms and princes from fire-breathing dragons and dark wizards. Instead, she became a writer, which is just as good and much less dangerous. Along with writing, Morgan enjoys photography, travel, and reality TV, and is an extremely picky yet voracious reader of all kinds of books. Under another pen name, she's a nationally bestselling author of many paranormal novels. Falling Kingdoms is her first high fantasy.
FOLLOW THE TOUR
http://www.twochicksonbooks.com/ Two Chicks on Books 12/11 - guest post
http://www.jessabellareads.org Jessabella Reads 12/11 - review
http://www.myfriendsarefiction.com My Friends Are Fiction 12/14 - guest post
Http://www.amidsummernightsread.com A Midsummer Night's Read 12/15 - Book Playlist
http://darkfaerietales.com/ Dark Faerie Tales 12/15 - review
www.iceybooks.com IceyBooks 12/16 - Top 10 list
http://thedailyquirk.com The Daily Quirk 12/17 - review & giveaway
http://www.mundiemoms.blogspot.com Mundie Moms 12/18 - interview
http://hollywoodnewssource.com/ Hollywood News Source 12/18 - review