---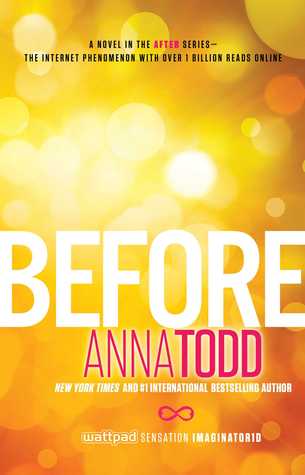 Before
The After Series #5
Author:
Anna Todd
Reading Level: New Adult
Genre: Contemporary
Released: December 8, 2015
Review Source: Gallery Books
Book Five of the After series—Anna Todd's Wattpad fanfiction that racked up one billion reads online and captivated romance readers across the globe! As told by Hardin and other characters, Before will explore the hero's life before he met Tessa, reveal what happens after After, give you new insights on their turbulent romance—and revel in the awesome power of true love. #HESSA
This book may be unsuitable for people under 17 years of age due to its use of sexual content, drug and alcohol use, and/or violence.
Hardin and Tessa took us all by storm in After, and now it's time to see what was going on through Hardin's mind Before. We know Hardin as the broken boy who needs love and Tessa as the one who fixes Hardin. But we never got to see inside his mind until After We Collided - but now we have Hardin's POV Before.
Let me just go through my emotions. I got this book and cried happy tears. I couldn't believe I had it in my hands. I started reading that night. At first was annoyed seeing as it starts with some surprises - I just wanted to get to the Hessa I knew. Then we got to the good stuff and I was overjoyed. But then I was a little irritated - but then again, when does Hardin not irritate you? But then I ended with happy tears, because let's face it...I love Hardin.
You see...I was irritated with Hardin. But I was only irritated because there were a few ways Todd could go with his thinking during the catalyst of Hessa - trying to not give spoilers away, but those of you who have read After know what I'm talking about. Let's just say I didn't like Hardin's thinking. I had wanted what, after reading Before, I knew I wouldn't get. I feel like I know Hardin - in and out - and I feel like he was exactly how I knew he would be, but that shattered my heart into even more pieces. Which honestly I should expect from Todd by now...
Aside from that Before was amazing. It was nice to see Hardin before Tessa and After Tessa. But what I really loved were the surprises that Todd leaves for us. It honestly made up for my broken heart. I cried mainly during these surprises - and I was glad to get a little piece of perfection.
For those of you wondering if you should read Before, I say YES! A MILLION TIMES YES! And for those of you who haven't even read After can I just ask, what have you been doing?! Go pick up After - finish that series - then pick up Before and have your heart broken and put back together again a million times over by the amazing Anna Todd.