---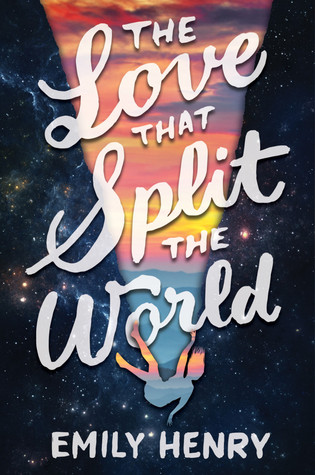 The Love That Split the World
Author: Emily Henry
Reading Level: Young Adult
Genre: Fantasy
Release Date: January 26th 2016
Review Source: Razorbill
Natalie Cleary must risk her future and leap blindly into a vast unknown for the chance to build a new world with the boy she loves.

Natalie's last summer in her small Kentucky hometown is off to a magical start... until she starts seeing the "wrong things." They're just momentary glimpses at first—her front door is red instead of its usual green, there's a pre-school where the garden store should be. But then her whole town disappears for hours, fading away into rolling hills and grazing buffalo, and Nat knows something isn't right.

That's when she gets a visit from the kind but mysterious apparition she calls "Grandmother," who tells her: "You have three months to save him." The next night, under the stadium lights of the high school football field, she meets a beautiful boy named Beau, and it's as if time just stops and nothing exists. Nothing, except Natalie and Beau.

Emily Henry's stunning debut novel is Friday Night Lights meets The Time Traveler's Wife, and perfectly captures those bittersweet months after high school, when we dream not only of the future, but of all the roads and paths we've left untaken.
As you are familiar, I tend to read books without reading the synopsis, a bad habit of mine. Specially when it comes to amazing covers, which is the fact with this scenario. I loved this cover! It is so amazing! So having said this, I had no clue what this book was about. Glad I did because I was extremely surprised how I enjoyed this read.
In The Love That Split the World we meet our main character, Natalie. Right from the bat, we learn Natalie is intrigued by her grandmother stories, whom happens to be away. With these stories we learn Natalie is adopted from a Native American girl who was struggling and per the rules of her reservation, she was told to give her daughter to another family. One is curious about her stories. However, the story become more intriguing when he grandmother shows up to tell Natalie she has three months to save "him". Natalie does not know "him" but embarks a journey to find "him". This "him" is Beau. A beautiful, mysterious and gentle. A boy who would play a big role in Natalie's life. A boy that will make you swoon.
What I enjoyed most about this story is Natalie's determination. Her determination to learn the truth about her birth and what is the truth behind her grandmother's stories. She follows her guts even though she is isn't sure if it is the right move or not.
The Love That Split the World is engaging for the most part but the ending was a bit predictable. However, Emily has a way of enchanting you with her writing and appreciated her message. Even though one may feel left out, an outcast, there is always a place you belong.
This book is a must if you want to take an adventure with a touch of family and friendship.