---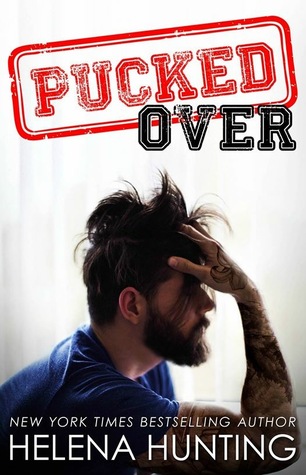 Pucked Over
Pucked #3
Author: Helena Hunting
Reading Level: Adult
Genres: Contemporary Romance | Sports
Release Date: January 24th 2016
Review Source: Author
Lily LeBlanc isn't versed in the art of casual sex, but after seven years in an on-again, off-again relationship, she's definitely willing to give it a shot. And who better to try it with than her best friend's boyfriend's best friend? What could possibly go wrong? Nothing at all.

NHL player, Randy Ballistic, lives up to his last name on the ice and in the bedroom. His best friend and teammate has recently hung up his bunny skates, and traded them in for a real girlfriend. And she just happens to have a seriously feisty, extra-hot best friend on the rebound. Randy's more than happy to be Lily's spring board back into the dating scene.
This book may be unsuitable for people under 17 years of age due to its use of sexual content, drug and alcohol use, and/or violence.
Pucked Over
is the third book in the Pucked series by author Helena Hunting. This book follows teammate Randy "Balls" Ballistic, and Lily LeBlanc who is the best friend of Book Two's Sunny Waters.
Randy is an all around decent guy but he definitely lives the famous hockey player, bachelor lifestyle. He doesn't "do" relationships, he just indulges in the endless supply of "puck bunnies" who throw themselves at him and his teammates on a nightly basis. Then on one unsuspecting weekend away with his best friend and teammate, Buck, they go to visit Buck's girlfriend Sunny, and Randy meets her feisty best friend Lily. To say the two hit it off from the get go would be far from the truth, but the attraction they both feel towards each other is undeniable. They spend a few lusty days together before a situation snaps Lily back to reality and she sees what she thinks is the ultimate player/man-whore in Randy that she wants nothing more to do with.
Fast forward a few months later and they run into each other again. Lily does all she can to avoid him (even though secretly she doesn't really want to) but Randy is having none of it. He has thought about her constantly and when he finally seeks her out…BOOM…the chemistry is there and their story truly begins. But this isn't like the relationships we see in the previous two books where the couples are trying to make a relationship work from the get go. Lily just got out of a relationship, Randy doesn't do relationships, so they both decide that this will just be a casual and fun, no strings attached situation. Lily is able to keep this situation working since Randy lives in Chicago and travels all the time for hockey, and she lives in Canada, so they only see each other randomly, but even with the random times they get to see each other you can see through both their inner thoughts that they are feeling much more for each other, yet neither will admit it.
This story is much more about self discovery for both of them. Even though it still follows the comedic flow of the previous two books (especially in the scenes where Violet and Buck are in), I found it to be a little more personally in depth for each character as to why they are the way they are, the insecurities they both have, and the obstacles they both really need to overcome individually in order to make it finally work together. You'll still get your ROFLAO moments, but you will also get a little more emotional in this book. What starts as a hot booty call develops into something much more, then of course crumbles because neither of them opens up about how their feelings are developing, and then they need to find their way through to the other side. So I highly recommend this third book in the series. Helena Hunting has truly developed this series into something so special. She isn't using the same formula for each book with just different main characters. She is really giving us different situations that each couple have to go through in order to find their happily ever after and it is such a treat to meet each couple and go through their journey with them…while laughing along with them in between the sometimes tears. Five stars from me!
---
More Preorder links: