---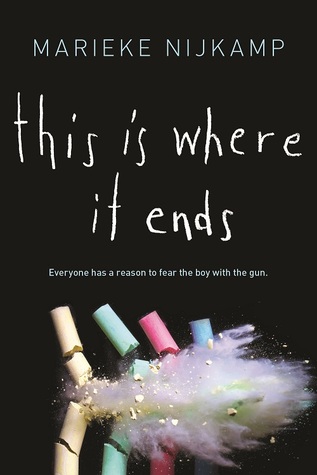 This Is Where It Ends
Author: Marieke Nijkamp
Reading Level: Young Adult
Genre: Contemporary
Released: January 5th 2016
Review Source: Sourcebooks Fire |
ReadingTeen
10:00 a.m.
The principal of Opportunity, Alabama's high school finishes her speech, welcoming the entire student body to a new semester and encouraging them to excel and achieve.

10:02 a.m.
The students get up to leave the auditorium for their next class.

10:03
The auditorium doors won't open.

10:05
Someone starts shooting.

Told over the span of 54 harrowing minutes from four different perspectives, terror reigns as one student's calculated revenge turns into the ultimate game of survival.
This is Where it Ends is like a case file.
You read the timeline, the facts, the victims and you learn about the criminal.
You try to figure out the reason why he/she is causing so much pain to others.
Although you are reading a tragedy, since you are reading facts, there are no emotions. There is no connection between you the the people involved and you try not to get attached. This is exactly how I read this novel.
I wasn't scared, I was not terrified of what was about to occured. What happens in this story is a great tragedy. Instead of getting scared, you want to get justice for the innocents. It is sad to learn the people you know and care for are capable of hurting you in ways you never imagine.
There are four characters and the story alternates from present tense to flashbacks. As you read the background of these characters, you get the feel of the person who will be doing the damage. Those lovers of mystery, like myself, would find this a bit predictable.
What disturbed me the most were the tweets and blog posts. If there is an accident or there is someone at your school, shooting people, please people do not tweet. Call 9-1-1! I couldn't believe how NO ONE had this brilliant idea. Hello, this is an emergency, the first thing you do is call 911. I have faith kids these days are brighter than this.
This is Where it Ends wasn't captivating. There are many questions unanswered. We never learn why this person snaps and starts shooting random students. This person wants revenge, wants justice for his/her sister, since she's "corrupted"... by finding love. Overall, it was an okay read.