Welcome to our stop on The Forbidden Wish tour for Jessica Khoury. This tour is hosted by
PenguinTeen
.
---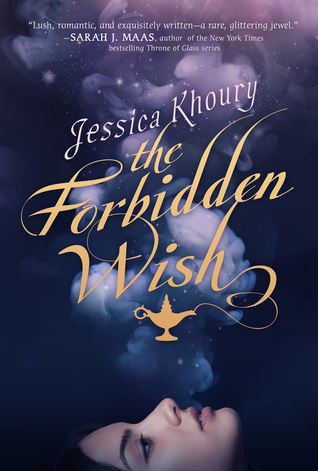 The Forbidden Wish
Author: Jessica Khoury
Reading Level: Young Adult
Genre: Fantasy
Release Date: February 23rd 2016
Publisher: Razorbill
She is the most powerful Jinni of all. He is a boy from the streets. Their love will shake the world...

When Aladdin discovers Zahra's jinni lamp, Zahra is thrust back into a world she hasn't seen in hundreds of years -- a world where magic is forbidden and Zahra's very existence is illegal. She must disguise herself to stay alive, using ancient shape-shifting magic, until her new master has selected his three wishes.

But when the King of the Jinn offers Zahra a chance to be free of her lamp forever, she seizes the opportunity—only to discover she is falling in love with Aladdin. When saving herself means betraying him, Zahra must decide once and for all: is winning her freedom worth losing her heart?

As time unravels and her enemies close in, Zahra finds herself suspended between danger and desire in this dazzling retelling of Aladdin from acclaimed author Jessica Khoury.
---
My bookish wish involves a tent in New Zealand on the shore of Lake Pukaki, with a gorgeous view of Mt. Cook. It's summertime, but the nights are still quite cool, so we've started a crackling campfire and we're roasting marshmallows. Of course we save a few for our faithful golden retriever Bark Ruffalo. Later, I'm going to sneak off and sit by the lake and read Tomorrow When the War Began, which is possibly my favorite YA book of all time. It's set in Australia, not New Zealand, but… close enough? Mmm, I can almost smell those roasting marshmallows…
---
Emily Henry is full-time writer, proofreader, and donut connoisseur. She studied creative writing at Hope College and the New York Center for Art & Media Studies, and now spends most of her time in Cincinnati, Ohio, and the part of Kentucky just beneath it.
NEXT ON THE TOUR
TheFandom
2/18 - Zahra playlist