---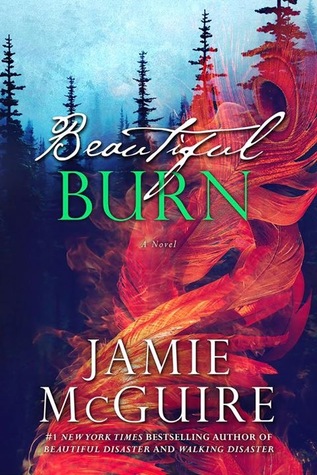 Beautiful Burn
The Maddox Brothers #4
Author: Jamie McGuire
Reading Level: New Adult
Genres: Contemporary Romance
Released: January 31st 2016
Review Source: Purchased
Fresh out of college, Ellison Edson has fallen through the cracks of rock bottom. While staying in her family's vacation home in Colorado, her behavior has finally gained the attention of her parents—but not in the way she hoped. Cut off from the millions she's always taken for granted, and left alone to fend for herself, Ellie spirals further out of control, making a mistake she can't take back. Like his twin brother Taylor, Tyler Maddox is a member of the Alpine Hotshots, fighting wildland fires on the frontline. As arrogant as he is charming, Tyler's nomadic lifestyle makes it easy to contain his relationships to one night. When he meets Ellie at a local party during off-season, her extreme personality and dismissive attitude fascinates him at first, but as his feelings deepen, Tyler realizes that the crippling inner demons of the woman he loves might be the strongest enemy any Maddox has ever faced.
Every time I finish a book in this series I say to myself…that's it, this is the brother for me, I'm in love the most with this brother! Well…it happened again. Tyler Maddox is no exception and I'm definitely in love. Beautiful Burn by Jamie McGuire is what I assume will be the last book of the Maddox Brother's Series (and this truly makes me sad). It follows brother Tyler Maddox, twin of Taylor Maddox, a firefighter in Colorado (as if that isn't hot enough), and Ellison Edson, a socialite with a vacation home in the area.
My first impressions of Ellison (and let's face it, it is because she is all these things) are that she is a snobby, over-privileged party girl, and to be quite frank…very slutty. After meeting Tyler at a party at her parent's estate they both make it clear after a one night stand (well really a one hour stand…she dismisses him and he is too eager to leave as well being that he is a playboy type) that neither of them are looking for anything beyond that one night and they go their separate ways. Well of course we knew that wouldn't last. After running into each other in town, Tyler, who has always been the playboy who never settled down with one girl, realizes he has met his match when Ellison wants nothing to do with him. Of course what do bad boys do when they meet their match? They want them more and chase them hard.
Ellison eventually gets cut off by her wealthy parents when they finally decide to show her tough love after their house is ruined in a party she threw. At this point in the story I'll be honest that I didn't really like her and I felt like she deserved what she got. She now had to go out and get a job for the first time in her life, find a place to live, and save up money from her job to pay her parents back for the damage caused to their house. When Tyler Maddox starts pursuing her diligently she is very standoffish and snobby and I sometimes wish I could have smacked Tyler upside the head and told him to move on, but it quickly becomes apparent that Ellison has much deeper issues than just being a spoiled rich girl. Her disease of addiction to drugs and mostly alcohol start to be shown in a deeper level then just a girl getting drunk at a party on the weekends. Tyler is there for her through it all. Even when she is at her meanest and ugliest. The way his playboy persona melts and is gone when he is around her, mixed with him being this rough and tumble fighting Maddox boy…is just so incredibly yummy and sexy! Just like all his brothers before him, he might be a tough fighter who no guy would want to mess with, but when he falls in love he is all mush in his girl's hand…it just makes you want to swoon!
Not only do I recommend this book a million percent, I recommend this entire series for anyone who hasn't read it. I had read the original series Beautiful Disaster a while back. It is kind of its own series based on the youngest Maddox brother Travis. Then Jamie McGuire broke off and started this series on the remaining other four brothers. For some reason I didn't think I would be into them so it took me a while to finally pick up the first book, and boy did I want to kick myself in the head over it. I loved this series as much, if not more than the original two books about Travis. So I give this book and the whole series overall five stars! It really makes me sad that we are at the last brother. My only hope is that maybe Jamie will pull a Black Dagger Brotherhood type of thing and start over with a new book on each brother at some point. There are some characters you can just never get enough of…and the Maddox boys are five of them!
---
Don't miss the first three books in The Maddox series: