---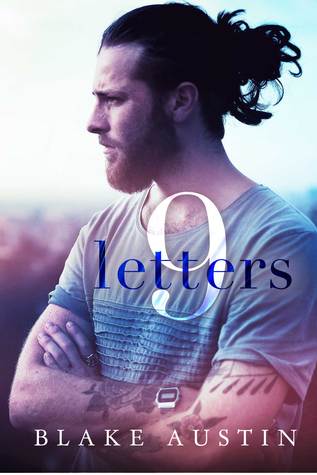 Nine Letters
Author: Blake Austin
Reading Level: Adult
Genre: Contemporary Romance
Released: February 24th 2016
Review Source: Author
Luke Cawley is a broken man. After his wife's tragic death, he lost everything that mattered in the world. Now, his life is filled with hard days, harder nights, and a steady stream of alcohol and the wrong kind of women. Nothing helps.

Until the letters arrive on Luke's doorstep.

Nine envelopes. Nine messages. Nine chances to find his way back.

Rae Goode is looking for the real thing. After fighting her way out of a string of bad relationships, she's ready for something different--something true. She meets Luke while piecing her life together, and right away she can tell that he's different. Drawn together by fate and the desire to heal, Rae and Luke discover new ways to mend their broken hearts--one letter at a time.

Discover Blake Austin's debut novel of loss, redemption, and ever-enduring love.
This is an Adult romance novel recommended for ages 18+ due to sexual content and mature subject matter.
Luke is a broken man, he lost the love of his life to cancer. Without his wife he lives life day by day. He does the essentials to bare the pain. He doesn't want to let anyone in nor is the right mind set to be thinking of dating. Then one day, on his first year anniversary of being separated from his beloved wife, he opens his door to find a sealed box with 9 sealed letters inside. These letters are from his wife. As he reads them and follows what is written, he starts to heal and do better in his life. He starts to to move on. Of course, he is afraid to open up and let a new person in his heart, but he knows he needs to try.
What I enjoyed most about Nine Letters is watching Luke work through his grief, with his beloved ones. Even his new friends wants the best form him. They don't want him moping around. They want him to get well and continue life. I enjoyed watching both Luke and Rae move on together, even though they have both lived through some tough times. Watching Luke heal and opening his heart to love again is so worth reading this story.
The story within Nine Letter is great. It's about giving life a second chance. It's amazing reading how one man goes from loosing his loved one, to watching the days pass by to eventually opening to new adventures. I loved how his wife knew him so well. She knew she had to leave letters to help him get there, even after she was gone. This is what true love is all about. An unconditional love. It's a very soul-touching, heartbreaking yet heartwarming story that everyone should read.