---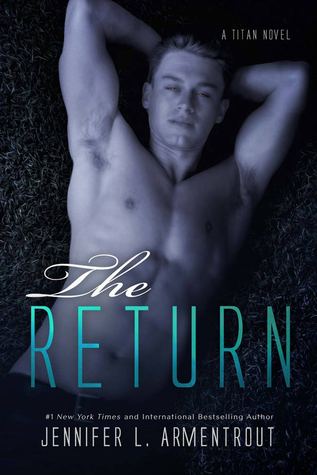 The Return
Titan #1
Author:
Jennifer L. Armentrout
Reading Level: New Adult
Genre: Paranormal | Greek Mythology
Released: February 16th 2015
Review Source: Purchased
The Fates are cackling their bony asses off…

It's been a year since Seth made the deal with the gods that pledged his life to them. And so far, the jobs they've given him have been violent and bloody–which is kind of all right with him. But now Apollo has something else in mind for Seth. He's got to play protector while keeping his hands and fingers off, and for someone who really has a problem with restraint, this new assignment might be the most challenging yet.

Josie has no idea what this crazy hot guy's deal might be, but it's a good bet that his arrival means the new life she started after leaving home is about to be thrown into an Olympian-sized blender turned up to puree. Either Josie is going insane or a nightmare straight out of ancient myth is gunning for her.

But it might be the unlikely attraction simmering between her and the golden-eyed, secret-keeping Seth that may prove to be the most dangerous thing of all.

Because history has once again been flipped to repeat.

Book 1 in the new adult paranormal TITAN series, spin-off to the best selling COVENANT series.
Greek mythology makes me weak at the knees. The Covenant series stole my heart and I would have been a fool not to read this. You don't have to read the Covenant series to understand
The Return
, although it would help a lot and I would very much recommend reading them first. It's a fantastic series and
The Return
wasn't a disappointment, either.
It's been a year since Seth started working for the Gods. He's changed, the world is still recovering and the Gods are suffering the back lash of releasing a Titan in a desperate time of need. Now, Seth works for the Gods doing anything and everything they ask, and now Apollo has asked him to protect an innocent woman from the wrath of the Titans. The important question is...why will the Titans come after her?
The woman, Josie, is exposed to a world she's always been destined to but never knew of, and Seth finds himself doing something he's never truly done before, love a woman. It was enduring to see. Seth was character I've been on the fence about, but getting to pick his brain in
The Return
shone a new light over him. I felt for everything he's been through and he grew on me a lot. I may even like him now...a lot.
I cupped her chin and tilted it back, deepening the kiss, wanting to somehow claim her very soul. Funny thing was, it was my soul that was being claimed, my breath that was being stolen, and my heart that was pounding crazy fast in my chest.
The Return keeps in the loop with the same characters we loved in the Covenant series and introduced us to some kickass new ones. This book is only the start, and ladies and gentlemen, hold onto your seats because I know you're in for a helluva ride with this series.