---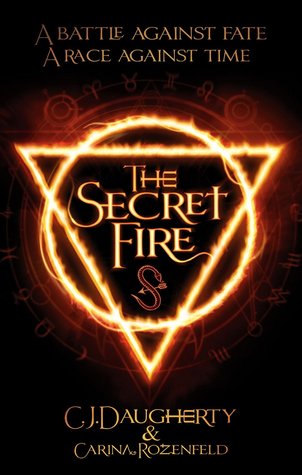 The Secret Fire
The Alchemist Chronicles #1
Author:
C.J Daugherty
Reading Level: Young Adult
Genre: Fantasy | Magic
Released: September 10th 2015
Review Source: Bookouture | Netgalley
French teen Sacha Winters can't die. He can throw himself off a roof, be stabbed, even shot, and he will always survive. Until the day when history and ancient enmities dictate that he must die. Worse still, his death will trigger something awful. Something deadly. And that day is closing in.

Taylor Montclair is a normal English girl, hanging out with her friends and studying for exams, until she starts shorting out the lights with her brain. She's also the only person on earth who can save Sacha.

There's only one problem: the two of them have never met. They live hundreds of miles apart and powerful forces will stop at nothing to keep them apart.

They have eight weeks to find each other.

Will they survive long enough to save the world?
"Matthieu L'hiver: I curse you. I curse your family. I call upon Azazel and Lucifer, I call upon Moloch and Beelzebub, I call upon all demons in hell to hear my plea. Your sons, and the sons of your sons I curse. Thirteen times may your first-born sons be taken from you before they are men. Thirteen times, may their blood feed the demons and bring out all you have tried to destroy."
The story of The Secret Fire explores two very different characters, Sacha and Taylor. Sacha is a cursed French teen who can't die, and Taylor is an uptight English student who's grades mean everything to her. Two very different people but their lives are connected in more than one way. Uncoincidentally, their paths cross over and both teens begin to realise there's more to life than their parents had made them believe.
A curse was placed on Sacha's family, meaning on Sacha's 18th birthday he will die, not a second before, just as many generations before him have. The weeks pass and around the time Sacha meets Taylor, he only has 7 weeks left to live before his 18th birthday. However, Taylor isn't normal either. Powerful magic flows in her veins.
For Sacha and Taylor, it's a journey of discovery and determination. The pair refuse to accept Sacha's daunting fate which is crawling closer with each day that goes by, and not only do the unconventional pair want to break the curse, but the need to stop the bad guys who's job it is to keep the pair apart. There's a lot of people who want Sacha and Taylor kept away from each other, and towards the end of the book, I figured out why.
This book was interesting from start to finish, but it wasn't until the very end that I craved the next instalment. The majority of outstanding questions had been answered, but the questions of "what's next?" hung heavy in my mind. The Secret Fire built up the world so that us readers knew that war was coming, tempting us with what was to come, then ended right when I needed more. It's safe to say that this book was a fantastic read and I'm in a book slump trying to find another book to sedate the craving.
If you like mystery, magic and the start of a romance then this is the book for you. It was cute, exciting and tragic all at the same time and I cannot wait for book 2!