There have been quite a few cover reveals in the bookish world lately. Here are a few that stand out to us.
---
Girl out of Water
Author: Nat Luurtsema
Release Date: June 2nd 2016
Publisher: Walker Books
A thoroughly British teen comedy starring a hilariously flawed heroine with a quip for every occasion.

Lou Brown's life is going down the pan. Best friend Hannah sailed through the Olympic time trials and is off to her fancy-pants new swim training school, while Lou's own failure to qualify leaves her without a hobby – or a friend. As Lou tries to navigate her post-swim world, a chance encounter with three boys with stars in their eyes takes her life in a surprising new direction. One that leads to a crazy world of underwater somersaults, talent show auditions, bitchy girls and one great big load of awkward boy chat.

Nat Luurtsema is a stand-up comedian, actor, BAFTA-nominated screenwriter and author of Cuckoo in the Nest, which is a Sunday Times Book of the Year.
Read more about this reveal here.
---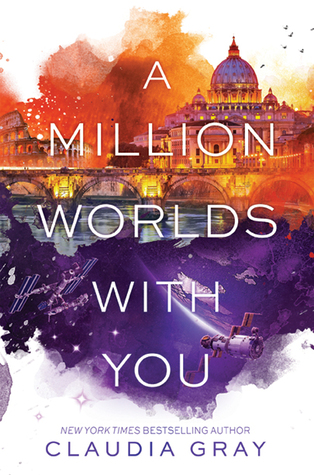 A Million Worlds with You
Firebird #3
Author: Claudia Gray
Release Date: November 1st 2016
Publisher: HarperTeen
A million universes. A million dangers. One destiny.

The fate of the multiverse rests in Marguerite Caine's hands. Marguerite has been at the center of a cross-dimensional feud since she first traveled to another universe using her parents' invention, the Firebird. Only now has she learned the true plans of the evil Triad Corporation—and that those plans could spell doom for dozens or hundreds of universes, each facing total annihilation.

Paul Markov has always been at Marguerite's side, but Triad's last attack has left him a changed man—angry and shadowed by tragedy. He struggles to overcome the damage done to him, but despite Marguerite's efforts to help, Paul may never be the same again.

So it's up to Marguerite alone to stop the destruction of the multiverse. Billions of lives are at stake. The risks have never been higher. And Triad has unleashed its ultimate weapon: another dimension's Marguerite—wicked, psychologically twisted, and always one step ahead.

In the epic conclusion to Claudia Gray's Firebird trilogy, fate and family will be questioned, loves will be won and lost, and the multiverse will be forever changed. It's a battle of the Marguerites . . . and only one can win.
---
Three Dark Crowns
Untitled #1
Author: Kendare Blake
Release Date: September 20th 2016
Publisher: HarperTeen
Every generation on the island of Fennbirn, a set of triplets is born: three queens, all equal heirs to the crown and each possessor of a coveted magic. Mirabella is a fierce elemental, able to spark hungry flames or vicious storms at the snap of her fingers. Katharine is a poisoner, one who can ingest the deadliest poisons without so much as a stomachache. Arsinoe, a naturalist, is said to have the ability to bloom the reddest rose and control the fiercest of lions.

But becoming the Queen Crowned isn't solely a matter of royal birth. Each sister has to fight for it. And it's not just a game of win or lose…it's life or death. The night the sisters turn sixteen, the battle begins. The last queen standing gets the crown.

If only it was that simple. Katharine is unable to tolerate the weakest poison, and Arsinoe, no matter how hard she tries, can't make even a weed grow. The two queens have been shamefully faking their powers, taking care to keep each other, the island, and their powerful sister Mirabella none the wiser. But with alliances being formed, betrayals taking shape, and ruthless revenge haunting the queens' every move, one thing is certain: the last queen standing might not be the strongest…but she may be the darkest.
---
Metaltown
Author: Kristen Simmons
Release Date: September 20th 2016
Publisher: Tor Teen
Metaltown, where factories rule, food is scarce, and hope is in short supply.

The rules of Metaltown are simple: Work hard, keep your head down, and watch your back. You look out for number one, and no one knows that better than Ty. She's been surviving on the factory line as long as she can remember. But now Ty has Colin. She's no longer alone; it's the two of them against the world. That's something even a town this brutal can't take away from her. Until it does.

Lena's future depends on her family's factory, a beast that demands a ruthless master, and Lena is prepared to be as ruthless as it takes if it means finally proving herself to her father. But when a chance encounter with Colin, a dreamer despite his circumstances, exposes Lena to the consequences of her actions, she'll risk everything to do what's right.

In Lena, Ty sees an heiress with a chip on her shoulder. Colin sees something more. In a world of disease and war, tragedy and betrayal, allies and enemies, all three of them must learn that challenging what they thought was true can change all the rules.

An enthralling story of friendship and rebellion, Metaltown will have you believing in the power of hope.