---
Do we have some exciting news for you today! Tor Teen is sending Veronica Rossi and Susan Dennard to our favorite indie bookstore. If you're in South Florida on February 24th at 7PM I highly suggest stopping by the Books & Books Coral Gables location. It's sure to be a great event!
If you can't make it to the event Books & Books takes orders and ships anywhere in the US for free! You can find more information about this at
www.booksandbooks.com
. Support your indie bookstores, they are the absolute best!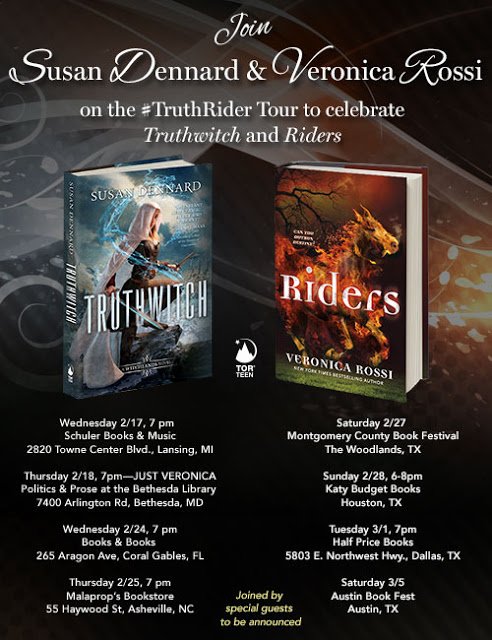 ---
Veronica Rossi is a best selling author of fiction for young adults. Her debut novel, UNDER THE NEVER SKY, was the first in a post-apocalyptic trilogy. Released in January 2012, it was deemed one of the Best Books of Year by School Library Journal. The series appeared in the NY Times and USA Today best seller lists and was published in over 25 foreign markets.

Her second series for young adults will begin with RIDERS (publishing February 16, 2016), the story of four modern day teens who become incarnations of the four horsemen of the apocalypse, and the prophetic girl who brings them together.
---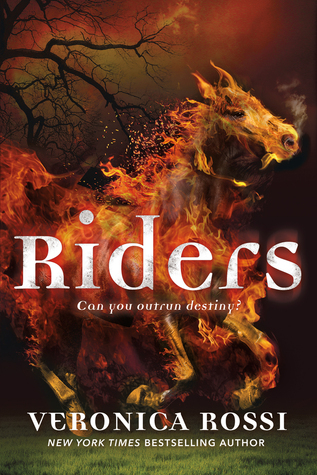 Riders
Author: Veronica Rossi
Reading Level: Young Adult
Genres: Fantasy
Release Date: February 16th 2016
Publisher: Tor Teen
Nothing but death can keep eighteen-year-old Gideon Blake from achieving his goal of becoming a U.S. Army Ranger. As it turns out, it does.

While recovering from the accident that most definitely killed him, Gideon finds himself with strange new powers and a bizarre cuff he can't remove. His death has brought to life his real destiny. He has become War, one of the legendary four horsemen of the apocalypse.

Over the coming weeks, he and the other horsemen—Conquest, Famine, and Death—are brought together by a beautiful but frustratingly secretive girl to help save humanity from an ancient evil on the emergence.

They fail.

Now—bound, bloodied, and drugged—Gideon is interrogated by the authorities about his role in a battle that has become an international incident. If he stands any chance of saving his friends and the girl he's fallen for—not to mention all of humankind—he needs to convince the skeptical government officials the world is in imminent danger.

But will anyone believe him?
---
Susan Dennard has come a long way from small-town Georgia. With a masters degree in marine biology, she got to travel the world—six out of seven continents, to be exact (she'll get to Asia one of these days!)—before she settled down as a full-time novelist and writing instructor.

She is the author of the Something Strange and Deadly series (from HarperTeen) as well as the forthcoming Witchlands Series (Tor, 2015). When not writing, she can be found hiking with her dogs, exploring tidal pools, or earning bruises at the dojo.
---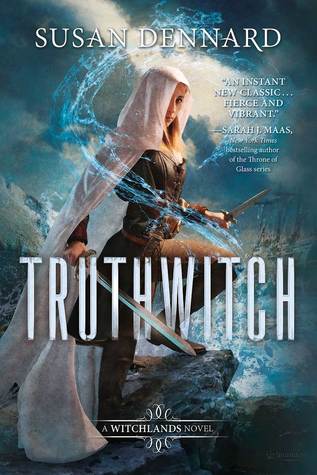 Truthwitch
Author: Susan Dennard
Reading Level: Young Adult
Genres: Fantasy
Release Date: January 5th 2016
Publisher: Tor Teen
In a continent on the edge of war, two witches hold its fate in their hands.

Young witches Safiya and Iseult have a habit of finding trouble. After clashing with a powerful Guildmaster and his ruthless Bloodwitch bodyguard, the friends are forced to flee their home.

Safi must avoid capture at all costs as she's a rare Truthwitch, able to discern truth from lies. Many would kill for her magic, so Safi must keep it hidden - lest she be used in the struggle between empires. And Iseult's true powers are hidden even from herself.

In a chance encounter at Court, Safi meets Prince Merik and makes him a reluctant ally. However, his help may not slow down the Bloodwitch now hot on the girls' heels. All Safi and Iseult want is their freedom, but danger lies ahead. With war coming, treaties breaking and a magical contagion sweeping the land, the friends will have to fight emperors and mercenaries alike. For some will stop at nothing to get their hands on a Truthwitch.