---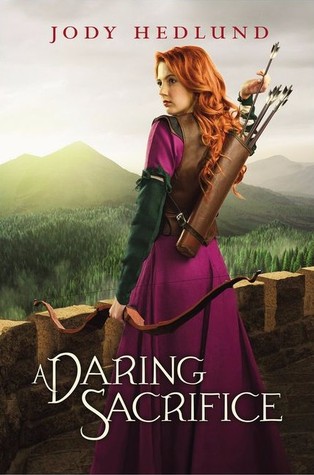 A Daring Sacrifice
An Uncertain Choice #2
Author:
Jody Hedlund
Reading Level: Young Adult
Genre: Historical Fiction
Released: March 1, 2016
Review Source: Zondervan
In a reverse twist on the Robin Hood story, a young medieval maiden stands up for the rights of the mistreated, stealing from the rich to give to the poor. All the while, she fights against her cruel uncle who has taken over the land that is rightfully hers. Forced to live in the woods and hide with the poor people she's grown to love, she works to save and protect them, but she never anticipates falling in love with the wealthy knight who represents all she's come to despise.
A Daring Sacrifice follows our girl version of Robin Hood and one of the knights from An Uncertain Choice. Steal from the rich, give to the poor. That is the base of the tale, right? Juliana is brave to take on this role and fight for those that have no means to fight for themselves. Then she meets one of the rich...
I was very excited to jump back into this world! Like I mentioned in my review for An Uncertain Choice- historical romances are never my first picks. Jody Hedlund has made a historical romance lover out of me! A Daring Sacrifice did not let me down! Although I wasn't sure why I thought this was a continuation of An Uncertain Choice. Never the less it was amazing in its own. The plot of this book is brilliant and Jody Hedlund writes so beautifully that I started and finished the book within a day. Within a work day!
I love who Juliana is and what she represents! I feel like she will resonate well with the young adult audience and make young girls want to go out and be brave and hero-like too! Now, I don't want to give away too many things because not only should you read A Daring Sacrifice, you need to read An Uncertain choice because I loved that one so much too! Although this one could be read as a stand-alone. No, dive yourself into this world completely!
That cliffhanger though… Do I really have to wait again?! LOL