Welcome to our stop on Burning Glass tour for Kathryn Purdie. This tour is hosted by
Rockstar Book Tour.
---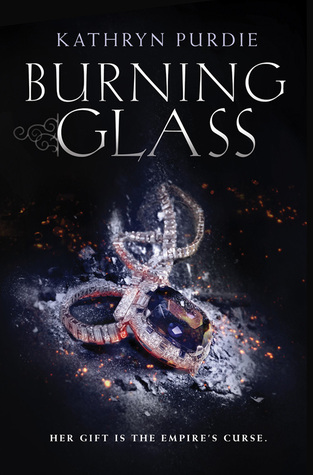 Burning Glass
Burning Glass #1
Author: Kathryn Purdie
Reading Level: Young Adult
Genre: Fantasy
Released: March 1st 2016
Publisher: Katherine Tegen Books
Sonya was born with the rare gift to feel what those around her feel—both physically and emotionally—a gift she's kept hidden from the empire for seventeen long years. After a reckless mistake wipes out all the other girls with similar abilities, Sonya is hauled off to the palace and forced to serve the emperor as his sovereign Auraseer.

Tasked with sensing the intentions of would-be assassins, Sonya is under constant pressure to protect the emperor. One mistake, one small failure, will cost her own life and the lives of the few people left in the world who still trust her.

But Sonya's power is untamed and reckless, her feelings easily usurped, and she sometimes can't decipher when other people's impulses end and her own begin. In a palace full of warring emotions and looming darkness, Sonya fears that the biggest danger to the empire may be herself.

As she struggles to wrangle her abilities, Sonya seeks refuge in her tenuous alliances with the volatile Emperor Valko and his idealistic younger brother, Anton, the crown prince. But when threats of revolution pit the two brothers against each other, Sonya must choose which brother to trust—and which to betray.

BURNING GLASS is debut author Kathryn Purdie's stunning tale of dangerous magic, heart-rending romance, and the hard-won courage it takes to let go.
The World of Burning Glass
I conceived the story idea for BURNING GLASS in a few seconds (after months of germinating the seed in my brain that I should write a book about an empath). I knew in those few seconds that my story would have four things: an empath, an emperor, a prince (the emperor's brother), and a setting *like* Imperial Russia.

I've been drawn to Imperial Russia for many years, ever since learning that the last Tsarevich, Alexei, the only son of Nicholas and Alexandra, had hemophilia, like my three brothers and son. The repercussions of Alexei's hemophilia were largely to blame for the fall of the Russian Empire. Since BURNING GLASS is a very personal story to me (a subject for another blog post), setting it in a place I felt deeply connected to made perfect sense.

I wanted my story to be epic in scope, sweeping, romantic, dangerous, dramatic, have magic that would almost feel possible in the real world, and involve a dash (and then some) of tragic occurrences. Imperial Russia was the perfect fit! I hoped BURNING GLASS would have a similar flavor of some of my favorite Russian (or Russian-inspired) stories, like WAR AND PEACE, DOCTOR ZHIVAGO, YOUNG CATHERINE (the film), and SHADOW AND BONE.

But I also knew I'd have to take plenty of liberties because my story world needed more than even awe-inspiring Imperial Russia could provide. BURNING GLASS deals with a revolution, and I didn't want it to feel communist or reflective of the Russian Revolution of 1917. I also needed a pantheon of gods, especially a goddess (Feya), protectress of the Auraseers (the empaths in my story), whom they would worship and dedicate their convent to.

So while BURNING GLASS has a strong flavor of Imperial Russia, I only use half the Russian words for things. That way, I hope the reader gets the idea that my story world isn't cast in a perfect Russian mold. I call a "kokoshnik" a headdress, and "matryoshka" nesting dolls. But there's still "kvass" (a mild alcoholic drink), "sharlotka" (a type of cake), and a "troika" (a sleigh drawn by three horses), for example.

I also selected character names from more than just Russia. I pulled from other Eastern European countries, as well, to stretch the limits of the world. I did the same with mingling different time periods in Russia (within a couple centuries). Muskets have been invented, but men still wear kaftans and beards as the common fashion. Don't worry, my two male supporting leads use a razor. ;-)

All in all, it was super fun to create this world—to have a rich Russian template to play with, but also color out of the lines as needed to suit the story I wanted to tell. First and foremost, my world (Riaznin) needed to be a setting that would form a person like Sonya into existence, with her unique identity and struggles. I had a great time creating that place and hope readers will enjoy the visit!
---
Kathryn's love of storytelling began as a young girl when her dad told her about someone named Boo Radley while they listened to the film score of TO KILL A MOCKINGBIRD. In high school and college, Kathryn focused on acting, poetry, guitar, and extensive journal writing. Years later, when she was in recovery from donating a kidney to her brother, inspiration for her first novel struck. She's been writing darkly fantastical stories ever since. Her debut novel, BURNING GLASS, releases winter 2016 from HarperCollins/Katherine Tegen Books.
10 winners will receive a finished copy of BURNING GLASS, US Only.
a Rafflecopter giveaway