---
The Revolution of Ivy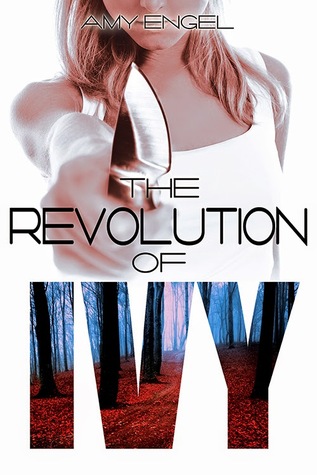 The Book of Ivy #2
Author: Amy Engel
Reading Level: Young Adult
Genre: Dystopia | Romance
Released: November 3rd 2015
Review Source: Entangled Teen | Netgalley
Easton doesn't believe in love. He believes in Death. Darkness. Sin. As a reaper for Hell, it's all he's known for over four hundred years. When he gets slapped with the job of training the boss's daughter, an angel who knows nothing but joy, he knows he's in for a world of trouble.

Though he's made it clear he wants nothing to do with her outside of work, Gwen would do anything to get closer to the dark and wounded reaper—even taint her angelic image and join the ranks of her father's team of reapers. But in all her planning, she forgot to factor in one thing—how far the demons Easton doomed to hell would go to get revenge.

When the dangers of the Hell threaten Gwen, Easton will do whatever it takes to save her. But as the darkness closes in on them both, will he be able to save himself?
I'm finding it hard to sum up how I felt about
The Revolution of Ivy.
I had very high expectations after
The Book of Ivy
and I'm undecided if my expectations were met. It's been a while since a book has left me this indecisive. Let me explain...
The novel was fantastic in the sense of fulfilment. After Ivy was banished beyond the fence, life became a lot more interesting for her. Life as she knew it was a distant memory and survival was about to become life or death, and she wasn't going to be able to survive alone.
"No one survives beyond the fence. At least that's what my father always told me when I was a child. But I'm not a little girl anymore, and I no longer believe in the words of my father. He told me the Lattimers were cruel and deserved to die. He told me my only choice was to kill the boy I loved. He has been wrong about so many things. And I'm determined that he's going to be wrong about my survival as well."
Ivy's survival in the wild was interesting. Over the past months she's had a few drastic changes in her life, this one dominating by far. From houses to shacks, Ivy tags along with a group of survivors who not only keep her alive, but show her the way of living without any civilization. She meets a whole new bunch of people. It was interesting and a part I liked very much.
Now, the character development was great for a few and bad for the others, it all felt very one dimensional. And that was a problem for me. Undeveloped characters is one of the only things which really make it hard for me to like the story/characters. As did the slow pace and lack of major events. Because of the nature of the story, I expected some story of explosion. Not literally, but some conflict of events which would give an extra kick which didn't happen.
Regardless of the things which made
The Revolution of Ivy
have a lower rating, I'll always remember the duology and will probably re-read it sometime in the future, because despite the bad points, I really enjoyed book one.