---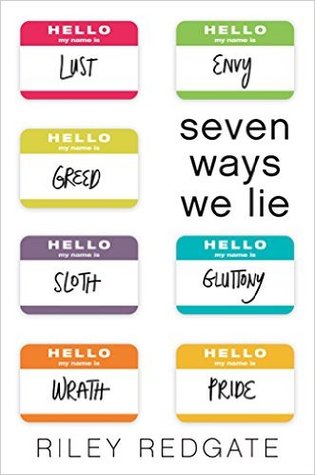 Seven Ways We Lie
Author:
Riley Redgate
Reading Level: Young Adult
Genre: Contemporary
Released: March 8 2016
Review Source: Amulet Books
Paloma High School is ordinary by anyone's standards. It's got the same cliques, the same prejudices, the same suspect cafeteria food. And like every high school, every student has something to hide—whether it's Kat, the thespian who conceals her trust issues onstage; or Valentine, the neurotic genius who's planted the seed of a school scandal.

When that scandal bubbles over, and rumors of a teacher-student affair surface, everyone starts hunting for someone to blame. For the unlikely allies at the heart of it all, the collision of their seven ordinary-seeming lives results in extraordinary change.
Following the story of 7 students at Paloma High School, The Seven Ways We Lie, definitely takes on the feel of such movies like Valentine's Day, Love Actually or New Year's Eve. Where you follow many different main characters and in one way or another they all intertwine together.
I loved this way of storytelling for a book. You see it all the times in film. Multiple main characters. Usually in a book you stick with one character, maybe 2. Otherwise things get a little confusing. But I feel like with this story it was good. Especially to give you the sense of high school drama. Of course, we've all been there or will one day be there so we don't necessarily have to relive it. But it does a good job of putting you in that dramatic mindset.
I loved reading Juniper's chapters. Redgate wrote her chapters in - what I can only assume is - pros. It flows like a poem and is broken like a poem. It captures Juniper in her drama, it allows you to realize she's broken and that the lie she's withholding might be the toughest one out of all the characters. Her chapters were short and sweet. To the point, yet sometimes you wouldn't realize how hurt Juniper was until you got to Olivia or Claire's chapter and you realized oh wait, Juniper actually did this during that last chapter?
While the writing was fun, the story was good, it was also a story I've read multiple times. I feel like I mainly just need a break from the high school drama books - because like I said. I've lived it before, at the moment I don't need to relive it.