---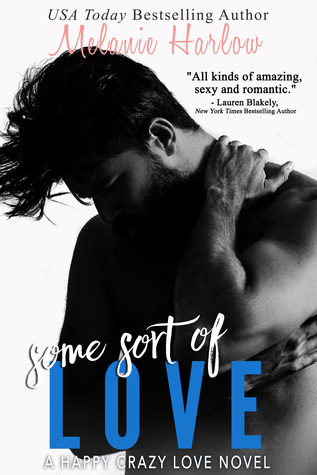 Some Sort of Love
Happy Crazy Love #3
Author: Melanie Harlow
Reading Level: Adult
Genre: Contemporary Romance
Released: February 9th 2016
Review Source: NetGalley
From the outside looking in, I had it all—a career I loved, a supportive family, the Nixon metabolism but not the Nixon ears, and a salary that supported my lavish taste in designer shoes, fine wine, and lacy lingerie … but I had no one to share it with.

Until the day I ran into him—my one night stand from college with the crooked smile, let's-get-out-of-here eyes, and dirty, dirty mouth.

Cute and cocky then, today Levi Brooks is six feet four inches of hot bearded fantasy. A sexy single dad with broad shoulders, strong hands, and a fantastically big … heart. (I mean, it's massive. And generous. And it pumps so hard … um. Sorry. Lost my place.)

Being a good father means everything to him, but he's keeping me at a distance because he thinks I deserve someone better — a man who can give me more time, more attention, more of himself. He doesn't believe he could ever be enough.

But he's wrong.

He's everything.
This is an Adult romance novel recommended for ages 18+ due to sexual content and mature subject matter.
Jillian is single, in her thirties, and lonely. Every time she goes to a party, she is always asked why? She wonders what is wrong with her. The thing is, she is waiting for her one true love. While both of her baby sisters are already in committed relationships, Levi is a father and has been for a while. He is a single father to his 8 year old son, who has special needs. Then, one day at Jillian's sisters wedding everything changes. when Jillian literally runs into Levi and the thing they've met before.
Some Sort of Love is a read about family. Reading that family is important to both, Jillian and Levi, was heartwarming. Yet to try and combine both together is hard for Levi for reasons. He has lived through years ago with his sons mom. However, Jillian is that girl he could never forget. So he tries to keep his life separate from Jillian and his son Scotty. Watching them try to find a balance with each other, because all Jillian wants is to be apart of his everyday and get to truly know him, while Levi keeps pushing her away.
This book is fantastic! A book about family with great intimate moments between the Jillian and Levi. This book was a easy and fun read. If you enjoy books with your main characters trying to figure out life and trying to balance life, then add Some Sort of Love to your TBR.