We honestly couldn't be more thrilled to announce that Penguin Teen is going on Tour! Not only that put the first stop will be at our favorite indie bookstore Books & Books! Make sure to clear your schedules on March 22nd at 7PM so you can chat with these amazing authors. We hope to see you there and if you happen to see us don't hesitate so say hi. :)
---
Alwyn Hamilton was born in Toronto and spent her childhood bouncing between Europe and Canada until her parents settled in France. She grew up in a small town there, which might have compelled her to burst randomly into the opening song from Beauty and the Beast were it not for her total tone-deafness. She instead attempted to read and write her way to new places and developed a weakness for fantasy and cross-dressing heroines. She left France for Cambridge University to study History of Art at King's College, and then to London where she became indentured to an auction house. She has a bad habit of acquiring more hardcovers than is smart for someone who moves house quite so often.
---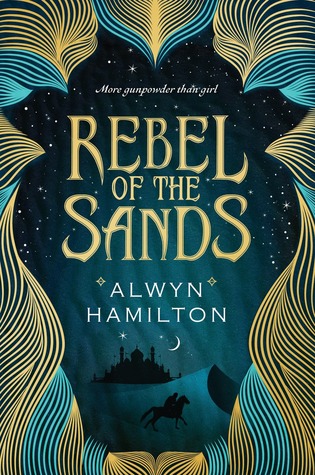 Rebel of the Sands
Rebel Of The Sands #1
Author:
Alwyn Hamilton
Reading Level: Young Adult
Genre: Fantasy
Released: March 8 2016
Publisher: Viking Books for Young Readers
She's more gunpowder than girl—and the fate of the desert lies in her hands.

Mortals rule the desert nation of Miraji, but mystical beasts still roam the wild and barren wastes, and rumor has it that somewhere, djinni still practice their magic. But there's nothing mystical or magical about Dustwalk, the dead-end town that Amani can't wait to escape from.

Destined to wind up "wed or dead," Amani's counting on her sharpshooting skills to get her out of Dustwalk. When she meets Jin, a mysterious and devastatingly handsome foreigner, in a shooting contest, she figures he's the perfect escape route. But in all her years spent dreaming of leaving home, she never imagined she'd gallop away on a mythical horse, fleeing the murderous Sultan's army, with a fugitive who's wanted for treason. And she'd never have predicted she'd fall in love with him...or that he'd help her unlock the powerful truth of who she really is.
---
Alison is best known for her New York Times bestselling fantasy duololgy EON and EONA, and her ability to dance a mean English contra-dance. She also writes award winning science fiction and crime fiction, and lives with her lovely husband and their machiavellian Jack Russell Terrier in Melbourne, Australia.
---
The Dark Days Club
Lady Helen #1
Author: Alison Goodman
Reading Level: Young Adult
Genre: Historical Fiction
Release Date: January 26th 2016
Review Source: Viking Books for Young Readers
New York Times bestseller Alison Goodman's eagerly awaited new project: a Regency adventure starring a stylish and intrepid demon-hunter!

London, April 1812. On the eve of eighteen-year-old Lady Helen Wrexhall's presentation to the queen, one of her family's housemaids disappears-and Helen is drawn into the shadows of Regency London. There, she meets Lord Carlston, one of the few who can stop the perpetrators: a cabal of demons infiltrating every level of society. Dare she ask for his help, when his reputation is almost as black as his lingering eyes? And will her intelligence and headstrong curiosity wind up leading them into a death trap?
---
Spent my childhood in the Mojave Desert, where I didn't have cable and thus chose to entertain myself with books and radio. My parents assured me that I wanted to become a doctor, but a brief stint working in a hospital changed my mind.
I left the desert for university at 17, graduated from UCLA a few years later, and went to work for The Washington Post directly after. Five years later, I left the Post and started working on a book.
If I could be anything, I'd be a space explorer, but a cool one, like Jean-Luc Picard.