---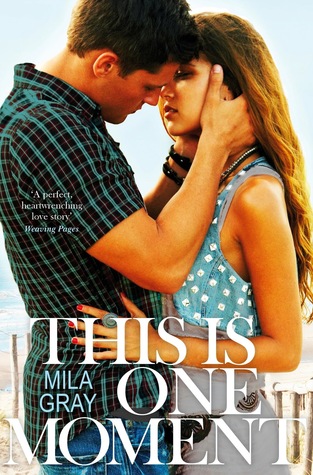 This Is One Moment
Come Back to Me #2
Author:
Mila Gray
Reading Level: Adult
Genre: Contemporary Romance | Military
Released: September 10th 2015
Review Source: Pan Macmillan | Netgalley
Didi Monroe's waited her whole life for the type of romance you see in the movies, so when Hollywood heartthrob Zac Ridgemont sweeps her off her feet, Didi believes she might finally have met the one.

While Zac's away filming for the summer, Didi begins her internship at a military hospital in California. There, she meets wounded Marine Noel Walker.

Frustrated on the outside and broken on the inside, Walker's a pain-in-the-ass patient who refuses all help.

Yet Didi can't help but be drawn to him, and though he's strictly out of bounds it soon becomes impossible to ignore the sparks flying between them.

As the attraction simmers into dangerous territory, Didi finds herself falling hard for a man she knows is going to break her heart. Because Walker doesn't believe in love or happy ever afters. So what possible future can there be

Then tragedy hits, shattering both their worlds, and Didi is forced to choose between fighting for love or merely falling for the illusion of it.
This is an Adult romance novel recommended for ages 18+ due to sexual content and mature subject matter.
Every single time I prepare for the choking emotion Mila Gray makes me feel but it still manages to shock me like it was the first time. If you haven't experienced Mila Gray/Sarah Alderson then you're in for a journey. Your heart will be taken, your mind filled with the characters, and your heart will be broken. And trust me, once it's all over, you won't have it any other way.
So many books just outline the appeal of guys in uniforms but this series does so much more.
This Is One Moment
is life after battle...if you were lucky enough to get an after. Didi is doing an internship at a wounded veterans hospital and having already experienced the loss of her best friend's brother Didi isn't naïve to how dangerous the veterans have had it, but then there's Walker. A survivor who's been left injured and visually impaired with a case of survivors guilt with a fiancé who couldn't handle the disability and left.
Didi and Walker's relationship was beautiful. Watching as Walker developed from a lonely tortured soul, to a guy who accepted friendship from Didi and came to depend on her to shave his beard, to the sizzling chemistry which blossomed between the two. From first kisses and true love, we got to watch every step of the relationship develop and it was wonderful. Really, really wonderful.
This Is One Moment
gives a whole new prospective on after war, of the mentally and physical damaged humans who sacrificed their well being for the safety of others. It's truly astonishing what some people go through and still come out on top. It's been a long while since a book has inspired me like this. It's a beautiful page turner which had me emotional from start to finish.