---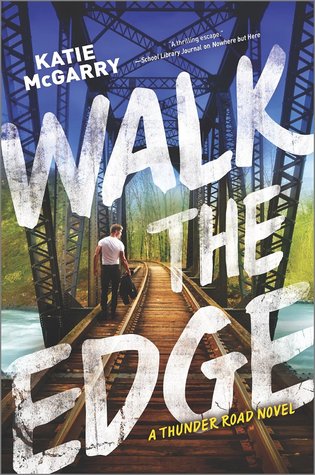 Walk The Edge
Thunder Road #2
Author: Katie McGarry
Reading Level: Young Adult
Genre: Contemporary
Release Date: March 29th 2016
Review Source: Harlequin TEEN
One moment of recklessness will change their worlds

Smart. Responsible. That's seventeen-year-old Breanna's role in her large family, and heaven forbid she put a toe out of line. Until one night of shockingly un-Breanna-like behavior puts her into a vicious cyber-bully's line of fire—and brings fellow senior Thomas "Razor" Turner into her life.

Razor lives for the Reign of Terror motorcycle club, and good girls like Breanna just don't belong. But when he learns she's being blackmailed over a compromising picture of the two of them—a picture that turns one unexpected and beautiful moment into ugliness—he knows it's time to step outside the rules.

And so they make a pact: he'll help her track down her blackmailer, and in return she'll help him seek answers to the mystery that's haunted him—one that not even his club brothers have been willing to discuss. But the more time they spend together, the more their feelings grow. And suddenly they're both walking the edge of discovering who they really are, what they want, and where they're going from here.
I'm pretty sure I've read every book Katie McGarry has published and every time I read a new one it instantly becomes my favorite. Walk The Edge was no different! I feel like I've been waiting my whole life to read Razor's story (I know, I'm being a bit extravagant but work with me here) and let me tell you Walk The Edge does not disappoint. There's mystery, bounding, discovering where you fit in life and coming to terms with things from the past. I went through so many emotions that it's still hard trying to wrap my head around everything. The Thunder Road series is not to be missed!
Razor has always been the one in the background mysterious, lingering and fiercely loyal. The Reign of Terror Motorcycle Club is his whole life. He's never known anything different. Something has always haunted and tortured him. He feels like the club is holding back something from him and he intends to find out. With or without their permission. In comes Breanna, there's something about her that keeps drawing him in, but she's a good girl and just having him around her will bring nothing but trouble for her. He's in need of help and she's the perfect person for the job so he has to fight his instance to stay away.
Breanna's brain is both a blessing and a curse. If you ask her a question I am positive she will tell you the answer with a bit more details that you probably didn't know you needed. It's a curse because she can never really turn it off. Once she starts on something her brain won't shut off until she has come to a conclusion and figured out the problem. Breanna is unique in a sense of the word, but in a family of 9 it's hard to be noticed. Breanna is by far one of the best characters I've read in a long time. I don't think I've ever come across a character like hers and her relationship with Razor will pull at your heart strings. How their story came about isn't exactly what you would expect considering she's been told her entire life that the Reign of Terror is bad news.
I'm having the biggest book hangover ever! It's a love hate type of relationship I have whenever I finish an amazing book. Walk The Edge had me feeling so many different emotions that I literally can't put them together to make a coherent thought. Here's where the hate part comes in— I now don't want to do or read anything else because I just want to live in my happy bubble where I can be with Razor and Breanna forever. It's the best type of feeling you can have while finishing a book, but then remember you read the book before it's even out yet so that just means you have to wait twice as long for the next installment to come out. Which by the way words can't describe how insanely excited I am to read Chevy and Violet's story. I can pretty much grantee my heart will be shattered. Thanks in advance Katie, can't wait to dive in!
Enter below for a chance to win an ARC copy of Walk The Edge (open INT)
a Rafflecopter giveaway