Welcome to the first stop on The May Queen Murders tour for Sarah Jude. This tour is hosted by
Rockstar Book Tour.
---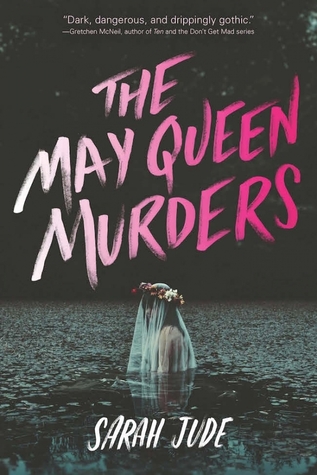 The May Queen Murders
Author: Sarah Jude
Reading Level: Young Adult
Genre: Mystery
Released: May 3rd 2016
Publisher: HMH Books for Young Readers
Stay on the roads. Don't enter the woods. Never go out at night.

Those are the rules in Rowan's Glen, a remote farming community in the Missouri Ozarks where Ivy Templeton's family has lived for centuries. It's an old-fashioned way of life, full of superstition and traditions, and sixteen-year-old Ivy loves it. The other kids at school may think the Glen kids are weird, but Ivy doesn't care—she has her cousin Heather as her best friend. The two girls share everything with each other—or so Ivy thinks. When Heather goes missing after a May Day celebration, Ivy discovers that both her best friend and her beloved hometown are as full of secrets as the woods that surround them.
EXCERPT
I've chosen an excerpt from THE MAY QUEEN MURDERS' prologue. The reader learns right away that something horrible has happened to Ivy and her small town of Rowan's Glen. From there, the story must piece together how she found herself in such a position.
Kerosene slopped from the rusty pail and splashed against the abandoned stable. Fumes burned my eyes but didn't blur my father's silhouette as he faced the building, bucket in hand. It would burn and, with it, the body inside.
"Go to hell!"
Papa's shoulders twisted as he wheeled back, shouting, sweeping the pail around. More kerosene rained against the wood while bile scorched my throat. I was too tired to get sick on the hay, my body wasted from screaming. I wiped my hand over my mouth and something snagged my lip. My fingernail was missing, a ragged root jutting from the bloody bed. Bitten off and swallowed by someone who wanted me dead . . .
"Don't worry." Mama's still-thick Mexican accent lilted her voice, but her expression was stoic except for a pinch around her eyes. That blankness scared me.
"This must be done," she whispered.
I wadded my fingers into my long skirt. The blue patchwork was smeared with blood and dirt. Last summer, my cousin Heather and I sewed peasant skirts together. They flared when I spun, round and
round, always with Heather.
The last time I saw Heather, she was wearing a skirt with red ruffles.
Papa trailed kerosene on the ground and retreated from the stable before tossing the pail inside. I couldn't see into the shadows. The body lying on the stone floor might yet have a pulse. A shiver tugged
at my neck, my chest rising and falling with shallow breaths. One clear thought pierced my mind's muddle, and it sickened me. I wanted that body to burn.
"Timothy." Mama fished a book of matches from a pocket in her apron and gave them to Papa. He took the matches and stretched one hand to hold mine. He was strong. My throat ached when I swallowed,
from being choked in an attempt to silence me. Now I said nothing as Papa struck the match.
The fire didn't whoosh to life. First, the match hit the ground and breathed. Then a blue worm of flames emerged from the earth and devoured one blot of fuel before moving to the next. Upon reaching the stable, the worm bloated into a dragon that blazed yellow and orange. The wood planks hammered by my great-great-grandfather when he was young crackled, bone-dry from drought. Fire twisted through the stable while coils of smoke erupted from the windows. The pulse of the body inside thump-thumped in my head. Frantic. Dying.
"Mama?" I whimpered.
"It's only fair," she said.
Papa didn't speak. Rage had made him do the unspeakable. For me, even though I'd survived. But also for those who hadn't. Fire was cleansing. Fire was vengeance. The flames burned red, as red as the ruffles of Heather's skirt. As red as Heather's hair.
---
Sarah Jude lives by the woods and has an owl that lands on her chimney every night. She grew up believing you had to hold your breath whenever you passed a graveyard or a bridge spanning water. Now she writes about cemeteries, murder, and ghostly apparitions. She resides in Missouri with her husband, three children, and three dogs.
3 winners will receive a finished copy of THE MAY QUEEN MURDERS, US Only.
a Rafflecopter giveaway
FOLLOW THE TOUR!