---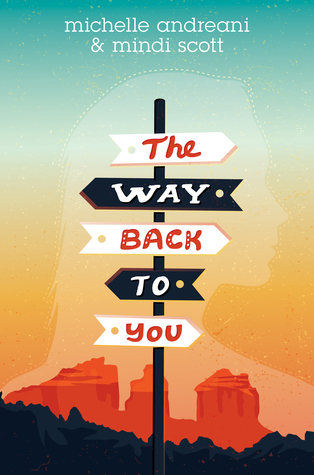 The Way Back To You
Authors:
Michelle Andreani & Mindi Scott
Reading Level: Young Adult
Genres: Contemporary Romance | Road Trip | Realistic Fiction
Release Date: May 3rd 2016
Review Source: Katherine Tegen Books
For fans of Jenny Han and Morgan Matson, a witty, poignant novel about second chances, letting go, and the unbreakable bonds of friendship.

Six months ago, Ashlyn Montiel died in a bike accident. Her best friend, Cloudy, is keeping it together, at least on the outside. Cloudy's insides are a different story: tangled, confused, heartbroken.

Kyle is falling apart, and everyone can tell. Ashlyn was his girlfriend, and when she died, a part of him went with her. Maybe the only part he cares about anymore.

As the two people who loved Ashlyn best, Cloudy and Kyle should be able to lean on each other. But after a terrible mistake last year, they're barely speaking. So when Cloudy discovers that Ashlyn's organs were donated after her death and the Montiel family has been in touch with three of the recipients, she does something a little bit crazy and a lot out of character: she steals the letters and convinces Kyle to go on a winter break road trip with her, from Oregon to California to Arizona to Nevada. Maybe if they see the recipients—the people whose lives were saved by Ashlyn's death—the world will open up again.

Or maybe it will be a huge mistake.
I am such a sucker for these realistic stories that begin with heartbreak but then as the story goes on, it starts to become a beacon of happiness and hope. The Way Back To You is a perfect example of that. Even now just thinking about the book as I write this review, my heart fills up with happiness. We need more books like TWBTY in our lives. We live in a world where there is just to much sadness and books like TWBTY, give us hope that life no matter how bad it gets can turn around for the better.
I will admit that I was afraid that the book would bomb for me, since Michelle and I have been friends for a few years now. So when I began reading, I kept waiting for something to be off and just not connecting with me, and thank goodness that never happened. At some point after a few chapters, I even forgot who wrote the book and became so engrossed with the story. You will literally be in the car with the characters as they begin the road trip thanks to such vivid details.
I believe this novel would be such a perfect fit for those that have lost loves ones, it has to touch you in a deep and meaningful way that others reading might not experience. Regardless though, I believe those that read TWBTY will adore it from start to finish. If TWBTY was a song, it would be on repeat on my iTunes. It's beautifully written and as I mentioned already so vivid.
TWBTY centers around friends Cloudy and Kyle, they both lost their best friend and girlfriend Ashlyn because of a tragic accident. They have been lost since Ashlyn's death, their lives fall apart each and every day that continues to pass, they get more and more secluded from the real world. But then Cloudy finds out that Ashlyn's parents donated her organs and they have kept contact with the recipients families. Cloudy takes this as a sign, so she steals the letters from Ashlyn's mother and decided she will go on a journey but that's not it, she puts on her girly pants and decides she wants Kyle, Ashlyn boyfriend to come along too. And so they do, they embark on this journey to visit the people that Ashlyn helped by losing her life.
I won't give more detail that that, because then I will give away too much. And trust me you want to feel all the emotions as they happen in the story. You will probably need some tissue on hand as you read. Seriously you will not be let down by TWBTY and the great writing that Michelle Andreani and Mindi Scott created within its pages.
I'm not one to compare a book or the authors but if I had to, I would say that The Way Back to You can sit on the same shelf as books written by some of my other favorite realistic fiction writers such as Jessi Kirby, Holly Cupala, Colleen Hoover.